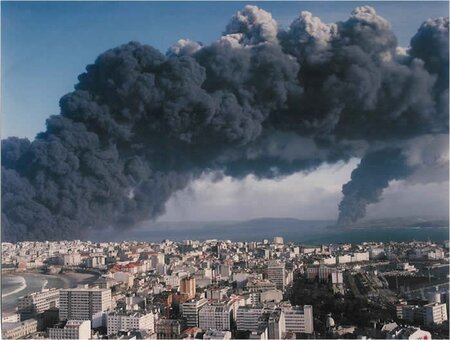 Incident
On 3rd December 1992 the Greek OBO carrier (ore/bulk/oil) AEGEAN SEA, laden with 80,000 tonnes of North Sea Brent crude oil, ran aground during heavy weather while approaching the port of La Coruña on the Galician coast, north-west Spain. The vessel broke in two and caught fire which, together with spilled cargo, burned for several days. Dense clouds of black smoke threatened the city of La Coruña, resulting in a temporary mass evacuation.
The forward section of AEGEAN SEA sank in shallow water, some 50 metres from the coast. The stern section remained largely intact and was found to contain 6,500 tonnes of remaining cargo and 1,700 tonnes of bunker fuel, which was eventually pumped ashore by salvors.
Response
The quantity of oil spilt was estimated at about 73,000 tonnes, much of which either dispersed at sea or was consumed by the fire on board the vessel. Strong winds during the initial five days assisted in dispersing much of the remaining light crude naturally, but also hampered recovery of oil at sea.
Attempts were made to protect sensitive areas using government-owned equipment. However, oil impacted rocky shores, sand beaches and a salt marsh/mud flat area. In total, over 300km of shoreline were contaminated to varying degrees. Manual cleaning of shorelines began in late December and continued sporadically for several months. In areas where access from the shore was possible, some oil was recovered using locally available vacuum trucks, skimmers and pumps. Approximately 5,000 tonnes of oil/water mixture was collected and delivered to local oil reception facilities for processing. In addition, 1,200m3 of contaminated sand and debris was processed at a local ceramics factory.
A variety of commercially important species, including mussels, were tainted and a comprehensive fishing and harvesting ban was imposed to protect a thriving fishing and mariculture industry. In August 1993 the fisheries authorities began destroying cultivated produce within a specified area, with mussels and salmon dumped in an inland quarry.
Claims totaling Pts48,187 million or €289.6 million, were submitted before the criminal and civil courts. In October 2002, an agreement was concluded between the Spanish Government, the shipowner, the P&I Club and the International Oil Pollution Compensation (IOPC) Funds for compensation amounting to Pts9, 000 million or €54 million.
ITOPF Involvement
ITOPF staff attended on site from the outset to assist the Spanish authorities on appropriate response techniques and by arranging for additional pumps and portable storage tanks to be brought in from France and the UK to supplement local resources. Staff were involved to a significant extent in determining the magnitude of the damage to the mariculture industry and in the assessment of numerous claims relating both to clean-up and to pollution damage for the P&I Club and the IOPC Funds.
Selected Bibliography
Hooke, N. (1997). Maritime casualties, 1963-1996. 2nd edition, LLP Limited, London
Pastor, D., Sanchez, J., Porte, C. and Albaigés, J. (2001). The Aegean Sea Oil Spill in the Galicia Coast (NW Spain). I. Distribution and Fate of the Crude Oil and Combustion Products in Subtidal Sediments. Marine Pollution Bulletin 42: 895 – 904.
Porte, C., Biosca, X., Sole, M., Pastor, D. and Albaigés, J. (1996). The Aegean Sea Oil Spill One Year After: Petroleum Hydrocarbons and Biochemical Responses in Marine Bivalves. Marine Environmental Research 42: 404 – 405.
Links
Categories: Spain, Oil, Bulk Carrier, Oil Tanker, Europe, Economic effects