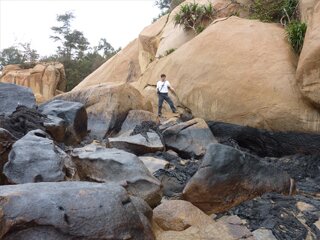 Incident
On Tuesday 15th September 2009, the containership AGIOS DIMITRIOS 1 (46,551GT, built 1988) was caught in a typhoon and ran aground off Gaolan Island, close to the city of Zhuhai in Guangdong Province, People's Republic of China. The vessel was in ballast, carrying 859 tonnes of Heavy Fuel Oil (HFO). Fuel oil tanks, ballast tanks and cargo holds were breached and after two unsuccessful re-float attempts and deterioration of the vessel condition, the vessel was declared a wreck.
Response
Zhuhai Maritime Safety Administration (MSA) led the response and the investigation of the incident. The MSA appointed several oil spill contractors as well as the local fishing community and fishing vessels to carry out clean-up activities. With regard to at-sea operations, the MSA was amenable to ITOPF recommendations regarding response strategies and techniques.
Shoreline clean-up consisted of removing oil from sandy beaches using manual recovery techniques.
ITOPF Involvment
ITOPF arrived on site a day after the incident and liaised closely with Zhuhai MSA to advise on the response activities, both at sea and on the shoreline. Joint surveys were conducted by boat and on foot to assess the extent of contamination and to select appropriate techniques and end points for the clean-up.
After returning from site, ITOPF assisted the P&I Club with assessments of the technical merits of clean-up activities, in addition to claims for alleged losses within the aquaculture, fisheries and tourism sectors.
Categories: China, Oil, Container Ship, Asia, Economic effects