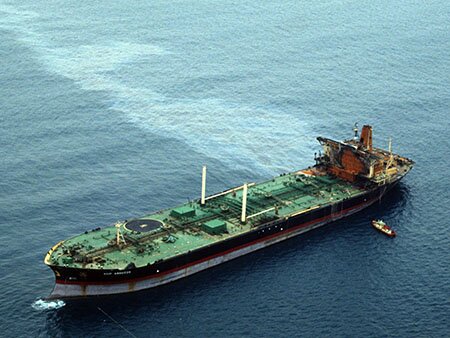 Incident
On the 10th April 1991, the ro-ro ferry MOBY PRINCE collided with the tanker AGIP ABRUZZO (98,544 GT; built 1977) in the Italian port of Livorno. AGIP ABRUZZO was carrying around 80,000 tonnes of Iranian light crude oil at the time. The collision caused serious damage to the starboard aft tanks, resulting in the release of ~2,000 tonnes of crude oil and an unknown amount of Intermediate Fuel Oil (IFO) 380 bunkers. The collision also sparked an explosion and intensive fire on both vessels, lasting 7 days.
The crew of the AGIP ABRUZZO were rescued by the Italian Authorities, but all but one of the 143 crew and passengers aboard the ferry perished in the fire.
Much of the oil was burned in the fire, however over the next few weeks ~130km of the surrounding coastline (mainly to the north) became polluted with oil.
Response
Once the fire was controlled, the Port Captain oversaw the project of lightering the vessel. Due to adverse weather conditions and operational problems, the transfer of the cargo to the vessel AGIP PIEMONTE was not completed until the 17th May. During the operation, small-scale releases of oil continued.
The responsibly for the clean-up of the port of Livorno was given directly to a local contractor. At the same time, the authorities appointed the local municipality and a second, larger contractor to conduct the rest of the shoreline response. The majority of the pollution was light in the form of scattered tar balls, recovered manually. However pressure washing and dispersants were also used on a small scale. Most shoreline operations stopped on the 26th May to coincide with the start of the summer tourist season. The AGIP ABRUZO was removed by tow on the 23rd October.
Compensation was paid by the P&I Club, primarily for clean-up and preventive measures. The 1971 IOPC Fund indemnified the P&I Club for a part of these costs.
ITOPF involvement
ITOPF arrived quickly on site in order to give advice and monitor the response on the behalf of the IOPC Fund, the owners of the vessel and their P&I club. With help from local surveyors, ITOPF was able to give recommendations on the most appropriate methods of response, as well as assisting in the collection of samples from both recovered oil and the shoreline. In addition, ITOPF played an active role in the advising on the assessment of claims for the case.
Links
CEDRE - http://wwz.cedre.fr/en/Our-resources/Spills/Spills/Agip-Abruzzo
IOPC Funds - http://www.iopcfunds.org/incidents/#58-1991-220-April