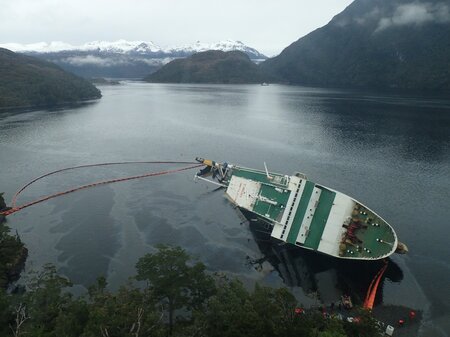 Incident
On 18th August 2014, the Ro-Ro ferry AMADEO 1 (GT 9,737) en route from Puerto Natales to Puerto Montt, grounded in Kirke Canal, 40 NM south west of Puerto Natales, in southern Patagonia, Chile. The vessel was reportedly carrying approximately 120m3 of fuel oil (IFO 180), 90m3 of marine diesel oil and 10m3 of lubricating oil. In addition, the vessel had a cargo of vehicles, livestock and waste vegetable oil. After sustaining damage to the hull from touching rocks at the entrance of the canal, the captain voluntarily beached the vessel north of the Kirke Canal, outside of the channel, and a heavy list established to starboard. All crew and passengers were safely evacuated via local fishing and Coast Guard vessels. The overall extent of shoreline contamination was largely limited to a confined section of the northern Kirke Canal shoreline and the environmental impact, monitored over three years, was shown to have been limited.
Response
As a result of the grounding, a small amount of oil was released from the casualty. The maritime authorities deployed booms to contain the majority of the oil between the vessel and a short stretch of shoreline. The shipowner was requested to undertake clean-up with a private contractor appointed under the supervision of the maritime authorities, with guidance provided from ITOPF. While the amount of oil spilled was relatively minor, the remoteness of the area, coupled with strong tidal currents in the Kirke Canal and the cold climate, presented significant challenges to spill response logistics. Some time was spent developing in-situ techniques to limit the amount of waste generated. Skimmers were used to recover the oil mixture within the boomed area and decanted in to 1m3 intermediate bulk containers on the shoreline. Aerial surveillance flights were used initially to assess the extent of the spill on the local area and influence response actions on the ground. On the shoreline, flushing was used to re-mobilise oil on the rocky shore so that it could be collected by well positioned sorbent booms.
Chile is party to the Bunkers Convention, so the incident was covered by national law, with the casualty's P&I Club providing compensation.
ITOPF Involvement
ITOPF was requested to attend the incident by the P&I Club and remained on site for eight weeks. Throughout the response, ITOPF was heavily involved on site in decision making through close liaison with the Port and Chilean maritime and environmental authorities. ITOPF worked closely with the private clean-up contractor to establish an effective clean-up strategy, including deployment of boom to attempt to contain further releases of oil and flushing of contaminated shorelines. ITOPF provided comments on the contingency plan for the bunker removal operation, before its review by the maritime authorities. Technical advice was also provided throughout the bunker and wreck removal, either on site or remotely, in relation to clean-up strategies, clean-up costs, contingency planning, de-bunkering operations and environmental monitoring and sampling.
Categories: Chile, Oil, Non Tanker, RORO, Americas