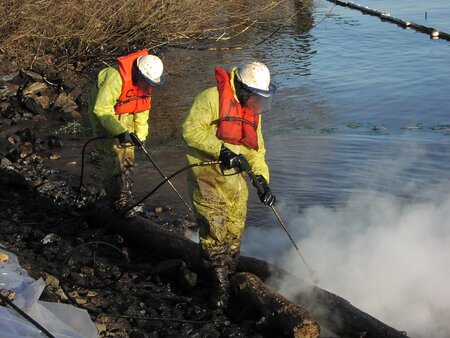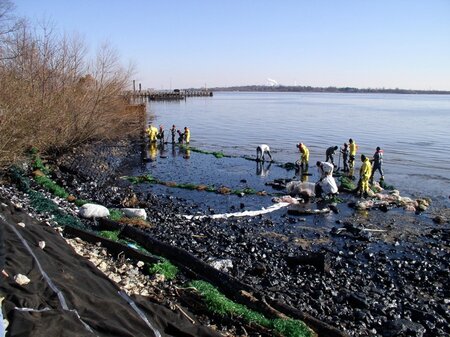 Incident
On 26th November 2004, the oil tanker ATHOS 1 struck an abandoned submerged and uncharted anchor on the approach to the Citgo refinery dock on the Delaware River, Paulsboro, New Jersey. The anchor punctured the single hull of ATHOS 1, resulting in a release of ~1,000 tonnes of Venezuelan Bachaquero crude oil. The spilled oil spread 115 miles downriver, affecting ~280 miles of shoreline in Pennsylvania, Delaware and New Jersey. The Delaware River Basin is a heavily populated and industrialised area, with major commercial and recreational resources at risk.
Response
A response was initiated immediately, with five skimming vessels from local oil spill cooperatives attempting to recover oil on the water surface. Long lengths of booms were put in place in attempts to protect the large numbers of creeks, tributaries, marinas, moored vessels and docks in the area. The Salem nuclear power plant was shut down temporarily and the US Coast Guard closed the Delaware River to commercial traffic for more than a week.
The response involved over 1,800 people per day at its peak. On-water recovery operations continued for two weeks with shoreline clean-up continuing for several months into 2005, exacerbated by numerous derelict piers and wharfs, debris and cold weather, including snow. Sunken oil proved particularly difficult to detect and recover.
The owner of ATHOS 1, as the Responsible Party under OPA'90, spent US$143 million to clean up the spill. In March 2005, the spill was federalised with continued costs paid from the Oil Spill Liability Trust Fund (OSLTF) directly. Total clean-up costs, natural resource damages and third-party claims combined to >US$300 million. The National Pollution Funds Center, as administrator of the OSLTF, limited the shipowner's liability under the Act to ~US$45.5million and reimbursed the shipowner for expenditure in excess of the limitation amount.
In 2016, after a lengthy legal process, the shipowner and US Government were awarded US$71.5 million and US$48.6 million respectively, including interest, from the sub-charterer refinery owners, as a result of a court judgment finding a contractual breach of safety warranty under the charter party to provide a safe berth.
ITOPF Involvement
ITOPF arrived on-site the day following the incident at the request of the casualty's P&I insurer and continued for nearly four months with six site visits by three technical advisers, who provided advice on the most effective allocation of clean-up resources as well as demobilisation of assets as they became ineffective or inappropriate. Considerable effort was expended working with clean-up contractors to develop a reasonable approach towards dealing with oiled recreational boats and marina facilities and to develop techniques to quantify the amount of sunken oil.