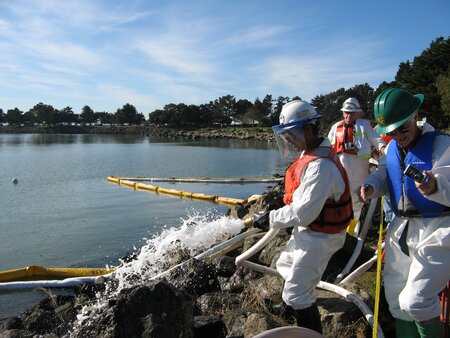 Incident
Whilst leaving the port of San Francisco in thick fog on 7th November 2007, laden container vessel COSCO BUSAN allided with a pier of the Oakland Bay Bridge causing a tear in the vessel's hull in the way of two bunker tanks and the discharge of ~200 tonnes of bunker fuel.
The tidal cycle spread the oil widely within San Francisco Bay, affecting approximately 90 miles of shoreline. Local birdlife in particular was affected.
Response
A significant response ensued, with a local state of emergency declared by the Governor of California and the closure of the crab fisheries at what would have been the start of the crab fishing season. Some 27 beaches were closed to the public.
For the at-sea response, 11 skimming vessels were deployed, together with 20 fishing boats in shallow waters where the deeper draft vessels were unable to operate. In excess of 1,000 people were deployed in the field and a further 2,000 volunteers were trained for beach cleaning. The majority of the clean-up was completed within two months under intense media scrutiny, concluding in autumn 2008 at the cost of ~US$81.5 million.
In total the claims were settled marginally in excess of US$100 million, including from amongst others, herring and crab fisherman, and for pollution damage to pleasure craft, marinas, commercial and residential property, fishing boats, Natural Resource Damage to birds, fish & eelgrass, various habitats and recreational activity, and the cost of repairs to the bridge.
Although it is possible to limit liability under OPA'90, the right to limit is not available in particular circumstances. These include violations of applicable Federal safety regulations. The speed of the vessel in severely restricted visibility would have prejudiced the right to limit.
ITOPF Involvement
The casualty's P&I Club requested ITOPF to attend on site, with three staff travelling to San Francisco to provide advice on response operations and to take part in subsequent Natural Resource Damage Assessment (NRDA) activities. This was facilitated by the then recently-renewed Memorandum of Understanding between the US National Oceanographic and Atmospheric Administration (NOAA) and the International Group of P&I Clubs, which aims to improve transparency and promote collaboration in the NRDA process. ITOPF provided technical information and analysis to all parties involved in the restoration process and joined several technical working groups.
Categories: United States, Oil, Container Ship, Americas