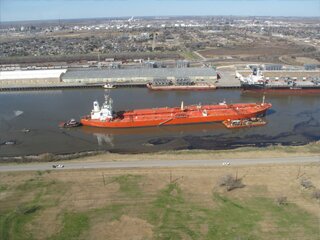 Incident
On 23rd January 2010, two barges and their towing vessel DIXIE VENGENCE, collided with the Singapore flagged oil tanker EAGLE OTOME (52,504GT, built 1994), in the Sabine Neches waterway in Port Arthur, Texas. The DIXIE VENGEANCE and her associated barges sustained limited damage, but the collision resulted in a hole near the No. 1 starboard cargo tank of EAGLE OTOME and a spillage of an estimated 1,440 MT of light crude oil (Olmeca Crude-Sour) cargo.
The main economic concerns were the temporary closure of the waterways, which are the main access route for barges carrying feedstock for local refineries, as well as a major import–export route for numerous petrochemical facilities that line the waterways to the northwest of Port Arthur.
Response
An Incident Command post was established in Port Arthur, led by the Unified Command, made up of the US Coast Guard, the State of Texas General Land Office, and the ship-owner. Despite mobilisation of large quantities of response resources, the oil spread along the Sabine Neches Waterway, moving back and forth across the waterway with changes in predominant wind direction. The majority of the spilled oil was contained within a 12km length of the waterway. Relatively small quantities of oil extended to the south into Sabine Pass, into the wetland reserve of Keith Lake and the eastern section of the Inter-Coastal waterway, which connects Port Arthur to Galveston.
The volatile nature of the oil meant a significant quantity was eliminated through evaporation. The remaining spilled oil was contained within booms deployed along the waterway and recovered with vacuum trucks. Following the on-water response, Shoreline Clean-up Assessment Teams (SCAT) were engaged to both survey and recommend shoreline clean-up techniques to be undertaken. Shoreline clean-up commenced on 30th January and completed by 24th February.
A rehabilitation centre for oiled wildlife was set up due to large quantities of birds present in the area. Eight birds were captured, cleaned and successfully released.
ITOPF Involvement
ITOPF was requested to attend by the vessel's P&I Club, and two technical advisers were mobilised to site to assist with surveys of the oiled shoreline and support the overall response.
Links
Categories: United States, Oil, Oil Tanker, Americas