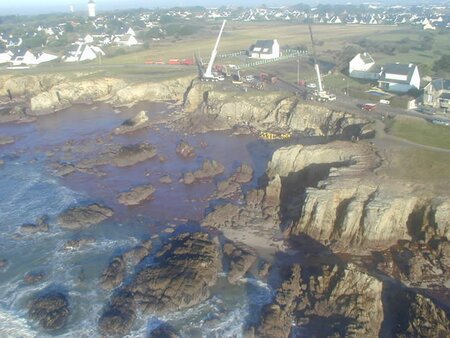 Incident
The Maltese tanker ERIKA, carrying some 31,000 tonnes of heavy fuel oil as cargo, broke in two in a severe storm in the Bay of Biscay on 12th December 1999, 60 miles from the coast of Brittany. About 20,000 tonnes of oil were spilled. The bow sank on 12th December and the stern on the following day.
The French Naval Command in Brest took charge of the response operations at sea in accordance with the French National Contingency Plan. Response vessels were mobilised immediately, but attempts at skimming ultimately met with little success owing to the poor weather and widespread fragmentation of the slick. In 15 days of operations 1,100 tonnes of oil/water mixture were collected, mainly during a 24-hour period of relatively calm weather and reduced swell. It has been estimated that less than 3% of the total spill volume was collected during the response operations at sea.
Owing to the influence of strong winds and currents, shoreline oiling did not occur as quickly as expected or in the locations originally forecast. After first moving south-east from the spill site toward La Rochelle, then turning north, the oil finally began stranding around the mouth of the River Loire on Christmas Day 1999. Intermittent oiling subsequently occurred over some 400km of shoreline between Finistère and Charente-Maritime. Due to the long time that the oil spent at sea, much of it formed a water-in-oil emulsion, which significantly increased its volume and viscosity.
The degree of oiling of shores was very patchy through the affected area. The most heavily contaminated areas were located in Loire Atlantique, the northern Vendée and on offshore islands, notably Belle Ile. These areas required the mobilisation of considerable cleanup resources to carry out a programme of initial bulk oil removal, followed by prolonged and difficult secondary cleaning. Other areas received only very light oiling (eg parts of Finistère and Morbihan) where fine cleaning alone was needed.
During the cleanup operation, between 190,000 and 200,000 tonnes of oily waste was collected from shorelines and temporarily stockpiled. Temporary reception facilities were established in car parks and stretches of land close to beaches, mainly by building earth or sand bunds or digging holes and lining them with plastic. Ultimately, the French oil company Total agreed to receive all the wastes at their Donges refinery, where adequate storage sites were available or built within and close to the refinery. Little attention was paid to segregation of wastes, however. The result was a mixture of oil, sand, debris, seaweed, protective clothing, damaged booms and other response equipment like scrapers, buckets and spades, which needed sorting before disposal could proceed.
Operations to pump out oil remaining in the sunken sections of ERIKA began once the weather improved in June 2000 and were successfully completed within three months. Some 10,000 tonnes of oil were recovered during the main pumping operations. Fine cleaning added a further 1,200 tonnes.
The main environmental impact of the spill was on sea birds. Almost 74,000 oiled birds were recorded ashore along the coast of the Bay of Biscay, of which almost 42,000 were dead.
The magnitude of the spill and the length of coastline affected resulted in a large number of compensation claims. There are important coastal fisheries, mariculture (oysters and mussels) and tourism resources throughout southern Brittany and the Vendée. Salt production areas were also affected by oil pollution.
Selected Bibliography
The ERIKA oil spill: environmental contamination and effects in the Bay of Biscay(2004). Special issue of Aquatic Living Resources, Volume 17, Number 3, July-September 2004. EDP Sciences
Le Guerroue, P., Poupon, E., Merlin, F.X., Cariou, G. (2003). Recovery of sunken and buried oil in coastal water during the Erika spill. Proceedings of the International Oil Spill Conference 2003, Vancouver, Canada, 6-11 April 2003 (CD ROM). American Petroleum Institute, Washington DC, USA
Ragot, R., Poncet, F., Laruelle, F., Tintilier, F. (2003). Results of a three year monitoring programme on the natural recovery of vegetation after the Erika oil spill: Lessons for adapting response techniques. Proceedings of the International Oil Spill Conference 2003, Vancouver, Canada, 6-11 April 2003 (CD ROM). American Petroleum Institute, Washington DC, USA
Laruelle, F., Kerambrun, L. (2001). Erika oil spill: some innovations in the French shoreline response and beach cleanup methods. Proceedings of the twenty-fourth Arctic and Marine Oilspill Program (AMOP) technical seminar (including 18th TSOCS and 3rd PHYTO), Edmonton, Canada, 12-14 June 2001, 671-678. Environment Canada, Ottawa, Canada
Couvreur, J.-F., Scherrer, P. (2001). Treatment of waste from the Erika spill. Proceedings of the International Oil Spill Conference 2001, Tampa, Florida, 26-29 March 2001 (CD ROM). American Petroleum Institute, Washington DC, USA
LeDrean-Quenec'hdu, S., Jacques, J-P., Lamy, A. (2001). The Erika oil spill: The bird rescue response. Proceedings of the International Oil Spill Conference 2001, Tampa, Florida, 26-29 March 2001 (CD ROM). American Petroleum Institute, Washington DC, USA
Peigne, G., Cabioc'h, F. (2001). Offshore operations following the Erika oil spill. Proceedings of the International Oil Spill Conference 2001, Tampa, Florida, 26-29 March 2001 (CD ROM). American Petroleum Institute, Washington DC, USA
Links
Categories: France, Oil, Oil Tanker, Europe, Disposal