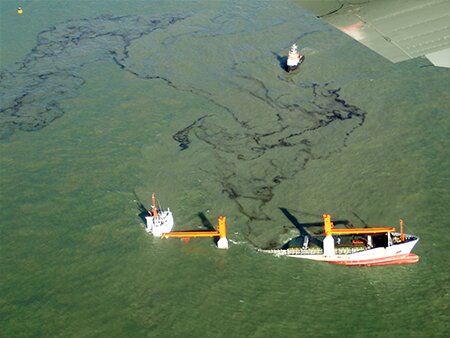 INCIDENT
In the early hours of the morning of 6th October, while en route to Bilbao with a cargo of steel plates, the 6,577 GT general cargo ship FLINTERSTAR was involved in a collision with the 136,685 GT LNG carrier AL ORAIQ approximately six nautical miles off the coast of Zeebrugge, Belgium. The collision resulted in severe structural damage to the port side hull of FLINTERSTAR and after taking on a heavy list she ran aground on a shallow sandbank with her stern partially submerged. The crew of 12 were rescued by the Belgian Coast Guard.
RESPONSE
Shortly after the incident, oil pollution was reported by the Belgian authorities and also separately through the European Maritime Safety Agency's (EMSA) Clean Sea Net service. Three specialised Dutch oil spill response vessels were mobilised to the site to assist with the recovery of oil at sea under the control of the Belgian maritime authorities: the Belgian Navy and the Directorate General for the Environment (DG Environment). The Bonn Agreement for international cooperation in the North Sea was also activated. The at-sea response was carried out with guidance from regular aerial surveillance, conducted by the Royal Belgian Institute of Natural Sciences (MUMM).
ITOPF INVOLVEMENT
ITOPF provided technical advice to all parties involved in the response. We also carried out joint aerial surveillance with the Belgian authorities in order to gain an overview of the situation and particularly to assess the threat of oil contaminating shorelines and sensitive resources. ITOPF also participated in a technical working group to provide objective advice on the spill response plans. The technical working group was a committee led by the Nautical Commission to the Court of Commerce, overseeing the response operation.
Categories: Belgium, General Cargo ship, Europe