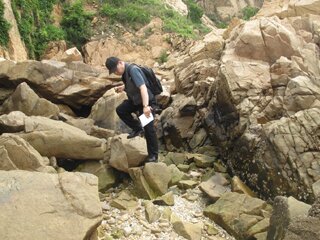 Incident
The general cargo carrier FU PING YUAN (2,645 GT, built 1990) was anchored at the Pukjangjaseo anchorage off Incheon Port, Republic of Korea, when she was involved in a collision with MV CS CRANE on 15th June 2010. The collision resulted in a 3-4m tear to the side of the engine room and, due to water ingress, FU PING YUAN started to sink. Since the vessel was located within a busy anchorage, the Port Authority mobilised two tugs to tow the vessel to an area outside the main anchorage where she subsequently went aground. At the time of the incident it was reported that approximately 60 tonnes of Intermediate Fuel Oil 120 (IFO 120) and nearly 18 tonnes of marine gas oil were onboard the vessel. An unknown quantity of fuel oil was lost from the vessel following the collision and grounding.
Response
The Korean Marine Pollution Prevention Act places responsibility for oil spill response on the shipowner, and early into the incident a local clean-up company was appointed on behalf of the Owners/ P&I Club for oil spill response. The incident led to relatively minor oiling on the shorelines of two islands and contamination of six abalone cages and a number of small fishing vessels. Local villagers raised concerns over the potential impact that the incident would have on their hand gathering of clams as well as the cultivation of kelp and abalone. The vessel was successfully re-floated on 1st September and towed to Incheon Inner Harbour; however she subsequently sank due to adverse sea conditions caused by a typhoon. Following a second salvage operation, she was refloated on 6th November 2010.
ITOPF Involvement
While on site, ITOPF liaised with the village leaders on the two Islands to advise on the level of shoreline clean-up required. ITOPF also met with the village leaders and Incheon Fisheries Cooperative Association on a number of occasions to discuss potential impacts on fisheries. After returning from site, ITOPF also advised the P&I Club on the technical merits of fisheries and clean-up claims.
Categories: Korea, Oil, General Cargo ship, Asia