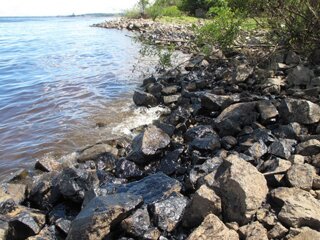 Incident
On 28th January 2011, the bulk carrier GDANSK (34,839 GT, built 1984) was loaded with 35,100 MT of iron ore when she ran aground outside Ferrominera Port, Puerto Ordaz, on the Orinoco River in Venezuela. As a result of the grounding the vessel's hull was punctured from the fore peak to ballast tank 2, and port side 1 and 2 fuel tanks were also affected. It was reported that the damaged fuel tanks contained approximately 520 tonnes of IFO 380, and as a result of the grounding an unknown quantity of fuel oil was lost from the vessel.
Response
As per the National Contingency Plan, a Committee (which comprised representatives of the Water Bodies Authority, the state owned oil company, the Ministry of Environment, the Harbour Master, the Fire Brigade and the National Guard) was established to oversee the response to the incident. The Committee requested that the ship-owner put measures in place to ensure adequate oil pollution prevention and response, and as such spill managers were contracted by the ship-owner. Owner appointed salvors carried out a lightering operation and successfully re-floated GDANSK on 9th February. The vessel was then taken to Ferrominera Dock and onward to a dry dock for repair.
The incident led to sporadic oiling along a 40km stretch of shoreline down-river of the grounding site. Manual clean-up was undertaken, with the most difficult aspect of the response being the logistics, as most of the oiled sites were not accessible by road and could only be reached using small boats. At the height of the response over 100 local labourers and villagers were employed by the ship-owner to carry out the shoreline clean-up work, which was completed nearly three months after the incident occurred. Some of the village communities in the oiled areas relied on the Orinoco River as a source of drinking water and for subsistence fishing, and therefore the ship-owner distributed bottled water and food packages in the early stages of the incident. The ship-owner also established a claims centre whereby local fishermen could exchange their contaminated fishing nets for new ones.
An Environmental Impact Assessment (EIA) was conducted by consultants appointed by the ship- owner to investigate the potential impact caused by the oil spill, all with the close involvement of local Ministry of Environment representatives.
ITOPF involvement
ITOPF attended on site immediately after notification at the request of the vessel's P&I Club and remained on site for approximately one month. While on site ITOPF conducted numerous shoreline surveys, and subsequently provided the ship-owner and their contractor, and local government representatives with advice on clean-up requirements. ITOPF also helped organise the EIA work and subsequently reviewed and commented on the EIA report.
Categories: Venezuela, Oil, Bulk Carrier, Americas