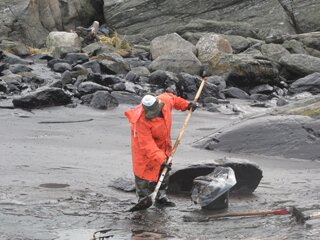 Incident
On 10th September 2011, the bulk carrier GOLDEN TRADER (28,240 GT, built 1994) collided with the fishing vessel VIDAR (385 GT, built 2000) approximately twenty nautical miles off the western coast of mainland Denmark resulting in the spillage of approximately 205 tonnes of intermediate Fuel Oil (IFO 180).
Response
The Danish Admiral Fleet directed the at-sea response, which focussed on containment and recovery using specialised oil spill response vessels. However, the rough sea conditions in the North Sea at the time of this initial response limited the recovery to 30-60 tonnes of an oil and water mixture and caused the response vessels to seek shelter after having sustained some damage to the recovery equipment.
On 16th September reports of oiling in the municipality of Tjörn in Sweden were received. Approximately 15km of coastline was oiled to a significant degree. Sporadic patches of light oil stranding were observed as far as 150km to the north, in Strömstad, and 15km south of the main stranding area. The Swedish Coastguard and the Swedish Civil Contingencies Agency (MSB) pollution response team used pumps, brush skimmers and mechanical excavators to recover the emulsified oil from the water. Swedish Army volunteers manually collected oil stranded along the coastline and conducted surveys of the many small islands impacted. The emergency phase of the response ended on 5th November with some 550 tonnes of emulsified oil (>70% average water content) and around 15 tonnes of oily kelp and debris having been collected.
The remaining oily debris and oil patches were removed by a local contractor over a total period of approximately fifteen months, with the municipality of Tjörn overseeing the work. An action plan regarding priorities and approved methods of cleaning in sensitive areas was developed by the Environment and Wildlife department of Tjörn.
ITOPF Involvement
ITOPF attended on site shortly after notification of the incident at the request of the vessel's P&I Club in order to provide advice to local and regional governments, clean up contractors and local residents. ITOPF returned to site three times during the later shoreline cleaning in order to provide advice regarding termination criteria and reasonableness.
Categories: Denmark, Oil, Bulk Carrier, Europe