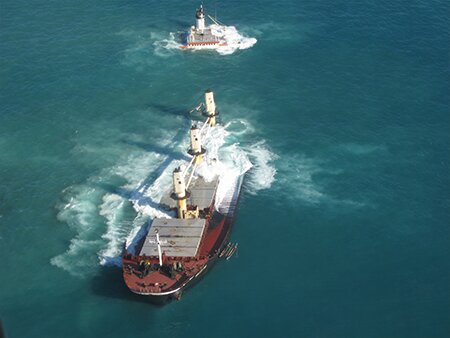 Incident
On 26th August 2009, the laden bulk carrier GULSER ANA (23,602 GT; Turkish flagged; built 1985) ran aground on the southern coast of Madagascar, approximately 1.2 km offshore. Within a few days, the vessel suffered serious structural deterioration which led to an immediate and significant oil spill and the loss of rock phosphate cargo, followed by generally decreasing losses in the following months. In all, it is believed that 39,250 MT of cargo, 568 MT of heavy fuel oil, 66 MT of diesel oil and 8 MT of lube oils were lost to sea.
Floating oil was washed ashore along approximately 47 km of sand beaches and rocky shorelines. The cargo was observed dissipating into the sea, but was never observed to have washed ashore.
Response
The affected area was remote, with very limited infrastructure and communications. A shoreline clean-up operation commenced on 3rd September and lasted a total of 120 days until mid-March 2010. Some 7,500 man-days of effort were expended in the 3-phase operation, including an initial manual beach-cleaning operation, a fine-cleaning operation for beaches, and a machine-based rock cleaning effort. Local workers were trained and equipped for manual cleaning, with operations overseen by ITOPF and managed by a French contractor appointed by the shipowner.
As operations progressed, a commercial joint venture was formed between the appointed contractor and a local waste management firm. All operations were signed off as complete and to the satisfaction of the authorities in mid-March 2010. Waste storage was organised according to recognised international standards, with final disposal at a specialist site near the capital. The waste was chemically stabilised and the resulting material completely recycled.
Fisheries Impacts & Monitoring
One of the key issues of the case was the effect on the local subsistence fishermen. A fishing ban was introduced immediately following the incident, and a food aid programme was negotiated between the P&I Club and the regional government. In order to properly assess the environmental and fisheries impacts, ITOPF developed a sampling plan of sea and well water, lobster and fish along the entire coast of the southern region including a number of reference sites outside the affected area. Total petroleum hydrocarbon, polycyclic aromatic hydrocarbon (PAH), heavy metal and phosphate concentrations were analysed, with no difference in oil content detected between the samples collected within the affected area and reference samples. Phosphate levels were similarly found to all be within background levels.
ITOPF Involvement
ITOPF was mobilised by the P&I Club on 28th August, arriving on site the following day. In all, three technical advisers travelled to site a total of eight times during the periods August–November 2009 and January–March 2010. Whilst on site, ITOPF was involved in arranging and overseeing manual and mechanical clean-up of long areas of sandy shore; aiding, facilitating and taking samples for monitoring purposes; arranging and overseeing high-pressure cleaning of a heavily-contaminated rocky area; planning and monitoring the management of the large quantities of waste produced by the operation; and liaising with government officials on matters relating to the clean-up, fishing ban, claims, etc. Amongst others, ITOPF provided verbal and written reports directly to the authorities, especially at ministerial level.
Categories: Madagascar, Bulk Carrier, Africa, Environmental effects, Disposal