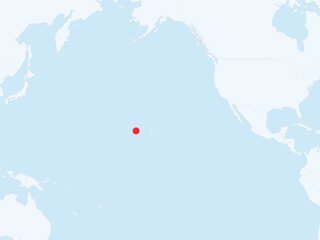 Incident
On 23rd February 1977, HAWAIIAN PATRIOT, fully loaded with 99,000 tonnes of light Indonesian crude oil, en route from Indonesia to Honolulu, reported a crack in its hull plating during a storm. This resulted in a leak of oil from the cargo holds approximately 300 miles west of Hawaii. Approximately 18,000 tonnes of oil had leaked into the sea and on the following day the tanker caught fire and exploded. It burnt fiercely for several hours and sank with the remaining cargo on board. One crew member died as a result.
The resultant oil slick, which was estimated to contain about 50,000 tonnes of oil, was carried westward away from Hawaii by ocean currents and did not result in pollution problems on land. The slick was kept under surveillance.
Response
No response to the oil spill took place as the oil dissipated naturally.
ITOPF Involvement
ITOPF was not involved with this spill.
Selected Bibliography
Hooke, N. (1997) Maritime casualties, 1963-1996. 2nd edition, LLP Limited, London
Butler, J.N. (1978) The largest oil spills. Inconsistencies, information gaps. Ocean Industry, October 1978, pp.101-112
Links
Categories: United States, Oil, Oil Tanker, Americas