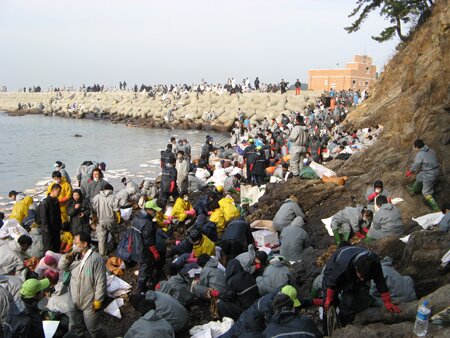 Incident
On 7th December 2007, the VLCC HEBEI SPIRIT (146,848GT, built 1993), laden with 209,000 tonnes of four different Middle Eastern crude oils, was struck by a crane barge whilst at anchor off Taean, South Korea. The barge broke free from its tow in poor weather, puncturing three port-side cargo tanks. Despite mitigating efforts by the crew of HEBEI SPIRIT, approximately 10,900 tonnes of Iranian Heavy, Upper Zakum and Kuwait Export crude oils were released to the sea.
Response
The at-sea response was led by the Korea Coast Guard with support from the Korean Navy and Korea Ocean Environment Management (KOEM) with more than 100 vessels from these organisations involved, along with over 1,500 private fishing boats. Dispersants were applied from vessels, from helicopters equipped with spray systems and small fixed-wing crop sprayers. Other vessels used skimmers and sorbents to recover floating oil.
The impact of the spill extended across three provinces and several hundred kilometres of coastline, both on the mainland and on numerous islands, along the western coast of South Korea. A major shoreline clean-up operation was undertaken with 21 separate clean-up contractor companies and numerous province-level and city authorities hiring many local villagers as labourers (up to 10,000 people per day). Significant numbers from the army were also deployed together with an immense volunteer effort (up to 50,000 per day). The primary clean-up techniques involved deploying the large workforce to recover oil manually using buckets, shovels and sorbent pads. Contractors also used vacuum trucks, skimmers and mechanical means at selected sites. Bulk oil removal was completed by the end of March 2008.
The preferred approaches for secondary clean-up operations were widespread manual wiping of rocks and pebbles using sorbent materials and other textiles, and batch processing of oily substrate by boiling in vats. More effective techniques, comprising surf washing, flushing and pressure washing, dependent upon the substrate type and site function, were promoted by ITOPF and adopted eventually by contractors after joint surveys and trials. The majority of secondary clean-up operations were completed by the end of June 2008, with operations in more remote areas continuing to October that year.
The west coast of Korea is a significant area for fishing and mariculture, and thousands of hectares of seaweed cultivation facilities, particularly laver, and intertidal oyster cultivation areas were affected by the oil, with severe socio-economic implications. Many farms and facilities required removal and replacement to minimise further contamination of the surrounding area by oil trapped in the facilities. Large-scale hatcheries for laver, sea mustard, abalone, sea cucumber, and finfish were also affected by oil taken in through water intakes.
In addition, the Taeanhaean National Park is an important tourist area in South Korea with ~21 million visitors annually to the beaches and coastal scenery. While the clean-up work reduced the effect of the oil on this industry, significant losses were nevertheless recorded by tourist businesses.
The incident qualified under the Civil Liability and Fund Conventions. The vessel's P&I Club and the International Oil Pollution Compensation Funds established a joint claims office in Seoul to receive and process claims. As at March 2014, 128,403 claims totalling KRW 2,775 billion (~£1,550 million) had been submitted. Approximately 110,000 of these claims were from the fisheries sector and ~10,700 claims related to tourism. All but 11 of the claims submitted have been assessed with 41,217 claims assessed at KRW 198,842 million (~£110 million) and 87,175 rejected for various reasons, primarily due to lack of supporting documentation or evidence of loss.
ITOPF Involvement
HEBEI SPIRIT has been the largest incident for ITOPF in terms of staff involvement. ITOPF was mobilised to site by the P&I Club immediately following the allision. A team of six staff attended subsequently in South Korea almost continuously for two years to advise the government and contractors on appropriate response techniques and to survey affected mariculture facilities. In addition, considerable time was spent in South Korea, as well as in London, to assist the P&I Club, the IOPC Funds and appointed surveyors in the assessment of claims for clean-up and pollution damage.
Links
Categories: Korea, Oil, Oil Tanker, Asia, Response Techniques, Environmental effects, Economic effects, Disposal, Compensation, Dispersants