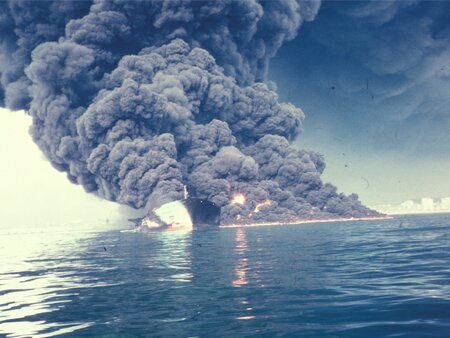 Incident
On 29th January 1975 the Danish tanker JAKOB MAERSK struck bottom while manoeuvring onto the berth with the aid of tugs at the port of Leixoes, northern Portugal. It was carrying ~88,000 tonnes of oil, comprising Iranian light crude oil cargo and bunker fuel oil when the incident occurred.
Heavy swell caused the vessel to repeatedly rise and fall onto the rocky seabed resulting in damage to the cargo tanks. Oil entered the engine room causing explosions and a fire which spread to the cargo holds and to oil floating on the water.
7 crew members were killed and the rest abandoned ship.
The vessel and floating oil continued to burn for two days with clouds of black smoke affecting the nearby city of Porto. Schools and colleges were closed and a number of residents were taken to hospital suffering from smoke inhalation.
After further explosions on 31st January caused by burning floating oil, the vessel broke into two parts. The stern section sank while the bow was washed onto shore.
It was estimated that between 40,000 and 50,000 tonnes of oil was consumed by fire. Much of the spilled oil was blown out to sea and 25,000 tonnes were estimated to have dispersed as a result. The remaining oil washed up on the shoreline with the heaviest contamination found in a 3-4 kilometre stretch immediately adjacent to the vessel. Traces of oil were found up to 15-20 km north and south of the wreck site.
Response
The entrance to the harbour was boomed with some success, although some oil did enter when the boom was opened to allow vessels to pass through. A barrier improvised from netting and straw was used to encircle the wreck and while successful initially in absorbing the oil and preventing further spreading, this became waterlogged and broke up causing secondary contamination.
Dispersant was sprayed from vessels but was considered to be largely ineffective due to minimal mixing as a result of calm seas.
Both manual and mechanical shoreline clean-up were undertaken with local inhabitants, the army, navy and fire service cleaning some areas. Heavily oiled sand was removed using bulldozers. More lightly oiled sand was pushed into the sea and treated with dispersants.
Impact
Very few birds were observed to have been affected as a result of the spill and local fisheries were relatively unaffected other than short term tainting. However, significant mortalities of seaweed and molluscs were recorded in the heavily contaminated areas.
ITOPF Involvement
ITOPF attended on-site to advise the Portuguese Navy and local authorities on the response. We assisted the shipowner to bring additional equipment and material to Portugal from the UK and commissioned surveys of local fisheries and affected areas. We also provided assistance to the casualty's P&I Club to assess claims from the various parties.
Selected Bibliography
Hooke, N. (1997) Maritime casualties, 1963-1996. 2nd edition, LLP Limited, London
Environment Canada (1976). Spill in Portugal. A report of the JAKOB MAERSK incident. Report no. EPS-8-EC-76-1. Environmental conservation Directorate, Canada
Canelas, L.D. and J. D. Calejo Monteiro (1977). Some studies of an oil spillage due to the JACOB MAERSK accident. Paper presented at the Oil Spill Conference March 8-10 1977, New Orleans, Louisiana, USA
Links
Categories: Portugal, Oil, Oil Tanker, Europe