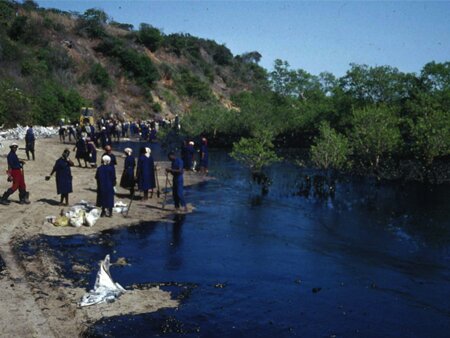 Incident
On 17th April 1992 the tanker KATINA P was disabled by a freak wave while transiting the Mozambique Channel. It was carrying 66,700 tonnes of heavy fuel oil en-route from Venezuela to the United Arab Emirates. The vessel lost hull plating amidships resulting in a release of approximately 3,000 tonnes of cargo.
KATINA P was intentionally grounded on a sandbar six miles offshore of Maputo Bay to prevent sinking. In an attempt to avoid further coastal pollution, the vessel was towed out to sea for lightering to another tanker. However, while under tow, the vessel broke in two and sank on 26th April, approximately 85 nautical miles off Mozambique, with a further release of oil.
Part of the oil released initially stranded on various beaches in and outside Maputo Bay. Oil that spilled when the vessel sank travelled south on the Agulhas current, with limited amounts of weathered oil stranding on the South African coastline.
Response
Shoreline clean-up was organised by the Ministry of Public Works with local municipalities using local labour, assisted by excavators, trucks etc. However work was hampered by limited resources and the on-going civil war.
Impact
Oil entered mangrove stands in the bay. These were left to clean naturally in order to minimise further damage.
A fishing ban was imposed in Maputo Bay immediately after oil came ashore but was lifted soon after.
Salt pans along the Matola River were closed to extraction for some weeks.
ITOPF Involvement
4 members of ITOPF staff attended on-site in Mozambique during the 4 months following the initial incident to advise the local authorities on response options and potential effects on fisheries. We also assisted the P&I Club concerned with reviewing various claims arising from the incident.
References
Hooke, N. (1997) Maritime casualties, 1963-1996. 2nd edition, LLP Limited, London Oil Spill Intelligence Report, 30 May 1991 & 6 June 1991.
Links
Categories: Mozambique, Oil, Oil Tanker, Africa