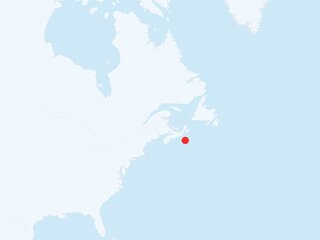 Incident
On 10th November 1988, the Liberian tanker ODYSSEY, almost fully loaded with a cargo of 132,157 tonnes of North Sea Brent crude oil, broke into two and sank in heavy weather in the North Atlantic 700 miles off the coast of Nova Scotia while on voyage from Sullom Voe, Shetland Islands to Come by Chance, Newfoundland. Fire started on the stern section as it sank and the surrounding oil caught fire.
Response
The ODYSSEY sent out a distress call which was received in Ireland and transferred to the Canadian Rescue Coordination Centre. Due to the rough weather conditions, the Canadian Coast Guard was only able to come within 1.75 miles of the vessel whilst on fire. Ignited oil slicks surrounding the vessel were also visible. Overflights were carried out by the Canadian Coast Guard to report the state of the wreck, which was found to be broken in two with the stern section sunk below the surface of the water. There was no trace of the 27 crew members onboard.
As the incident occurred 700 miles from the nearest coastline, there were no concerns about pollution as the oil was expected to dissipate naturally. No response action was taken.
ITOPF Involvement
ITOPF was not involved with this incident.
Selected Bibliography
Hooke, N. (1997) Maritime casualties, 1963-1996. 2nd edition, LLP Limited, London
Links
Categories: Canada, Oil, Oil Tanker, Americas