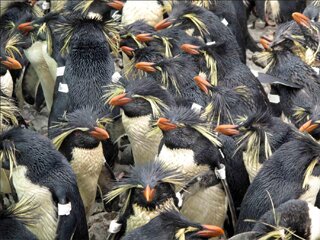 Incident
In the early hours of 16th March 2011, bulk carrier OLIVA (40,170 GT, built 2009) while on transit from Brazil to Singapore grounded on Nightingale Island, which is part of the Tristan da Cunha Island group in the South Atlantic. Tristan da Cunha is the world's most remote inhabited island, taking 5-7 days by boat to reach from Cape Town. The grounding and subsequent break-up of the vessel resulted in the release of approximately 1,400 tonnes of Intermediate Fuel Oil (IFO 320) and a proportion of the 70 tonnes of Marine Diesel onboard and some of its cargo of 65,000 tonnes of soya beans. As events unfolded, the released oil stranded along the shores of several islands, oiled approximately 3,700 endangered northern rockhopper penguins and impacted the economically important lobster (Jasus tristani) fishery.
Response & ITOPF involvement
ITOPF arrived in Cape Town on 19th March and, together with the P&I Club's correspondent and members of the city's shipping community and wildlife responders, co-ordinated the mobilisation of the incident response, which included both shoreline clean-up and bird cleaning and rehabilitation. Two vessels were chartered to transport equipment and personnel to the islands and to act as a base for the clean-up activities. The first vessel, an ocean-going tug, transported the urgently required bird response equipment and personnel; the second vessel, a polar supply icebreaker, followed a week later with the shoreline clean-up equipment and a helicopter.
The shoreline clean-up work was focused on a short section of the southern coastline of Middle Island where bulk oil had accumulated in a relatively sheltered cove. Clean-up work of two cleaning contractors together with a workforce of salvors from South Africa and local islanders, involved supervisory personnel from ITOPF.
The penguin cleaning and rehabilitation was undertaken by both specialists from SANCCOB (South Africa) and up to 70 islanders, with the islanders taking over the running of the operation following the response team's departure for South Africa. Oiled birds were transported to Tristan da Cunha where a makeshift bird cleaning and rehabilitation facility was constructed.
The Tristan da Cunha Island group supports a small but profitable lobster fishery which accounts for almost all of the islands' income. Following the oil spill and release of the vessel's cargo of soya beans, the fishery was closed on Nightingale and Inaccessible Islands as a precautionary measure. The impact of the incident on the fishery and the subsequent recovery was monitored using test fishing and dive surveys.
Categories: United Kingdom, Oil, Bulk Carrier, Africa, Environmental effects