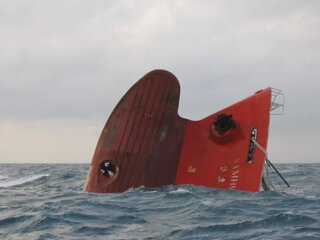 Incident
On 10th October 2005, the chemical tanker SAMHO BROTHER (3,900 GT, built 2003) was en route from Pusan, South Korea to Taichung, Taiwan when it was involved in a collision with the container vessel TS HONGKONG, 9 nm North West of Hsinchu, Taiwan. SAMHO BROTHER was carrying a cargo of 3,136 tonnes of benzene, 65 tonnes of intermediate fuel oil (IFO-180) and 16 tonnes of marine diesel (MDO) as bunker fuel. Following the collision, the SAMHO BROTHER capsized and partially sank in an upright position with the stern resting on the sea bed and 15m of the bow exposed above the sea surface. The vessel released an unknown amount of oil and benzene during the sinking.
Response
A response plan including a risk assessment on the fate and behaviour of benzene and its aquatic and human toxicity was prepared. Air and water dispersion models were run on benzene to set up an exclusion zone around the casualty. Air and water monitoring was carried out to validate and refine the modelling results.
The evaluation of the hazards associated with the cargo of benzene suggested that rapid release of benzene would be preferable in order to eliminate all risks. The Taiwanese Environmental Protection Administration (EPA) use Air Force aircrafts to bomb the vessel in an attempt to release the cargo in a controlled manner. However, the vessel sank without achieving the instant release of the cargo. An oil and cargo removal operation was eventually carried out.
Although some oil was spilled during this incident, no shoreline oiling was reported.
ITOPF Involvment
ITOPF provided advice to the authorities in relation to the risk of oil and cargo spillage and was involved in the preparation of the response plan and risk assessment through the appointment of a specialist Hazardous and Noxious Substance (HNS) emergency centre to carry out modelling for different scenarii of benzene release.
Categories: Taiwan, HNS, Oil, Chemical Tanker, Asia