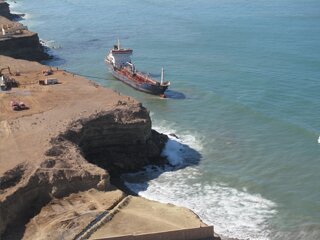 Incident
On 23rd December 2013, after encountering heavy weather, the chemical and product tanker SILVER (4,401 GT; built 2001) grounded on a sandbank off the coast of Tan-Tan in South Morocco while entering the port of El Ouatia. The vessel was carrying 4,940 tonnes of Heavy Fuel Oil (HFO) 380 as cargo, 190 tonnes of HFO 380 as bunker fuel and 24 tonnes of Marine Gas Oil (MGO).
A relatively small volume of oil was spilled from both the cargo and bunker tanks. This oil was contained in a small and very exposed area of the shore.
Response
The appointed salvage company mobilised oil spill response equipment which arrived on site a week after the incident. However, due to difficulties in accessing the spilled oil, no spill response was conducted. Instead, the area was naturally cleaned and no trace of the spilled oil was visible few weeks after the incident.
Ten days after the incident, all pumpable cargo and bunkers were removed from the vessel, and shortly after, SILVER was successfully refloated.
ITOPF Involvement
ITOPF arrived on site a few days after the incident at the request of the vessel's P&I Club. We provided comments and reviewed the resources mobilised, and assisted the authorities with contingency planning work. ITOPF advised the contractor to exercise and test the contingency plan with the assistance of the local authorities.
Categories: Morocco, Oil, Product Tanker, Africa