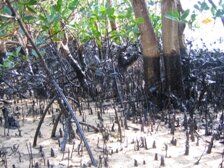 Incident
On 11th August 2006, the tanker SOLAR 1, chartered by Petron Corporation and carrying approximately 2,000 tonnes of intermediate fuel oil, encountered problems in rough seas and sank in the Guimaras Straits, some 10 nautical miles south of Guimaras Island, Republic of the Philippines. Two of the 20 crew members were lost at sea. A substantial, but at the time unknown, quantity of cargo was spilled when the vessel sank, and small quantities of oil continued to leak from the wreck in ever decreasing amounts. Following an operation to remove the remaining oil from the sunken vessel in March 2007 it was found that virtually the entire cargo had been spilled at the time of the incident. About 125km of shoreline were contaminated to varying degrees on the south and south-west coasts of Guimaras Island and a number of small islets off the south-east coast. This included approximately 500 hectares of mangroves, which are particularly vulnerable to the smothering effects of oil. The spill also had a major impact on the small-scale fisheries on Guimaras Island. A number of fishpond operators, seaweed farmers and tourist businesses also suffered losses.
Response
The Philippine Coast Guard (PCG) led the response and was assisted by Petron Corporation with international support. At-sea response focused on the application of chemical dispersants to the freshly released oil using aircraft and spray arms mounted on tugs and PCG patrol vessels. Attempts were made to protect sensitive resources using conventional booms and a series of improvised booms made from banana leaves and similar material. Shoreline clean-up was conducted for three months, overseen by the PCG and carried out by residents of the affected villages supported by Petron staff and a contractor hired by the shipowner. It was undertaken using predominantly manual methods and primarily focused on sandy beaches on the south coast of Guimaras Island. Collected oily waste was recycled at a cement plant on the island of Mindanao.
Although there was no official fishing ban, fishermen were reluctant to go out fishing due to fears that catch would be contaminated and that market confidence would be adversely affected. The vessel's insurers and the IOPC Fund sent two fisheries experts onsite to make a preliminary assessment of damage to fishing and aquaculture activities for appropriate compensation of losses.
The SOLAR 1 was the first incident involving the Small Tanker Oil Pollution Indemnification Agreement (STOPIA 2006), a voluntary agreement among the P&I Clubs to increase the limitation amount applicable to a vessel under the 1992 Civil Liability Convention to 20 million SDR for all ships below 29,548 GT (the 'small ship minimum' under '92 CLC is 4.51 million SDR for ships less than 5,000 GT).
ITOPF Involvement
On 16th August, members of ITOPF's technical team were mobilised to the incident site in the Philippines. ITOPF provided advice on all pollution related issues, including what shoreline clean-up options should and should not be implemented.
Selected Bibliography
Parker, H., Moller, T. (2008). Sunken Oil and the Removal of Oil from Sunken Wrecks. Paper presented at: 20th Triennial International Oil Spill Conference, Savannah, Georgia, May 4-8, 2008
Yender, R.; Lloyd, A. (2008). Impacts and response challenges of the tanker SOLAR 1 oil spill, Guimaras, Philippines: Observations of international advisors. Paper presented at: 20th Triennial International Oil Spill Conference, Savannah, Georgia, May 4-8, 2008
Links
Categories: Philippines, Oil, Oil Tanker, Asia, Environmental effects