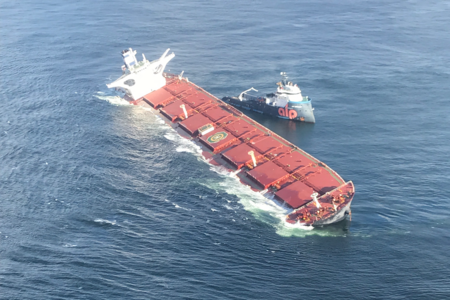 Incident
In the early hours of 25th February 2020, STELLAR BANNER ran aground on a sandbank following departure from the port of Ponta da Madeira, Maranhão State, northeast Brazil. The vessel came to rest with an eventual 21° starboard list, approximately 100 km from shore. At the time of the incident, STELLAR BANNER was fully laden with approximately 300,000 MT of iron ore fines and ~3,500 MT of VLSFO as bunkers. Following the grounding, oil, in the form of a light sheen, was observed in water around the casualty, which was reported to have washed off the deck at the time of the grounding. This sheen quickly dispersed and no persistent surface oiling was noted.
Response
On the afternoon of 6th March 2020, a light sheen was noted during an aerial overflight on the starboard side of STELLAR BANNER. As the release of oil into the marine environment was the main environmental concern, the removal of the bunkers onboard was considered a priority. Debunkering operations from STELLAR BANNER to chartered rig-support vessels commenced on 11th March and were completed on 27th March. Following this, the bunkers were transferred to the casualty's sister-ship STELLAR IRIS and these operations were completed on 12th April. Cargo lightering operations were also carried out, involving the disposal of some of the iron ore into designated dredging disposal sites nearby to the casualty.
ITOPF Involvement
ITOPF was mobilised on 27th February, arriving on site the next day. ITOPF's primary role was the provision of technical advice to the Brazilian authorities during the preparation of the pollution contingency plans for debunkering and cargo removal activities. ITOPF also provided technical advice on tactical response plans (TRPs) for Raposa and Alcântara municipalities should their shorelines have been impacted by oil. After ITOPF was demobilised from site, Technical Advisers remotely monitored the situation during cargo removal, refloat and scuttle operations, to provide advice when necessary.
Categories: Brazil, Oil, Bulk Carrier, Americas