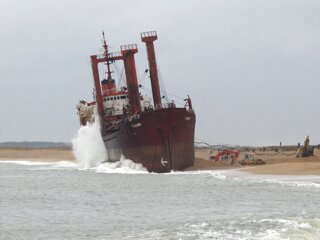 Incident
On 16th December 2011, the general cargo ship TK BREMEN (3,992 GT; built 1982) dragged anchor whilst in ballast under stormy conditions and sought shelter outside the port of Lorient. The vessel subsequently ran aground on the beach of Kerminihy, Erdeven, France resulting in a spillage of an estimated 70 tonnes of Intermediate Fuel Oil (IFO) 180.
The French Authorities rescued the crew, implemented the POLMAR contingency plan and instigated removal of the remainder of the oil from the casualty. Oil was spilled onto the beach and migrated into the Etel Ria, a sensitive area given its extensive oyster cultivation, with harvesting planned for the impending Christmas market. The Etel Ria and Erdeven Dunes are also regulated as protected areas under the Natura 2000 scheme.
Response
Ten days after the grounding, the shipowner took over the shoreline response from the POLMAR authorities and signed contracts for clean-up of the shoreline and demolition of the wreck. The technique for clean-up of the beach changed from bulk removal of oiled substrate to washing the sand in-situ in the surf-zone using local contractors.
Shoreline clean-up priorities were set according to local sensitivities, with the highest priority afforded to oyster farms, followed by amenity sites, and lastly inaccessible or infrequently visited areas. Clean-up of the oyster farm facilities was achieved by the first week of February.
The wreck was removed in pieces by a demolition contractor using grabs and cranes and was completed by the end of January 2012.
The overall shoreline clean-up and dune restoration following the demolition work were completed by mid-March with clean-up of the hulls of affected leisure boats completed by the end that month.
The incident qualified under the Bunkers Convention 2001.
ITOPF involvement
ITOPF was mobilised to site by the vessel's P&I Club shortly after the incident and, as a result of the subsequent ship-owner led response, played a very active role. ITOPF acted as advisers on the shoreline clean-up options, priorities and endpoints and also assisted the fishery consultant contracted by the P&I Club, working closely with the French Centre of Documentation, Research and Experimentation on Accidental Water Pollution (CEDRE) and the French authorities. Three staff remained on site continuously on rotation for two months. ITOPF subsequently assisted the P&I Club in the assessment of claims for clean-up and pollution damage.
Links
Categories: France, Oil, Bulk Carrier, Europe, Response Techniques