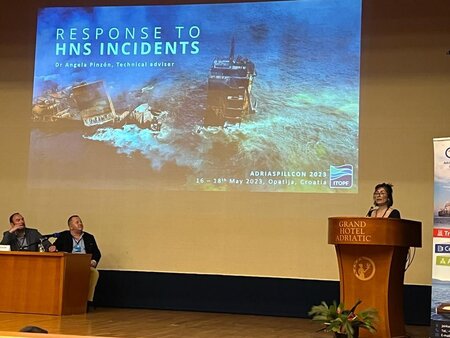 We had the pleasure of joining the 5th Adriatic Spill Conference and Exhibition, AdriaSpillcon in Opatija, Croatia, where Technical Team Manager, Franck Laruelle and Technical Adviser, Angela Pinzón Espinosa represented ITOPF.
Franck joined a panel speaking on the case study of the CSL VIRGINIA alongside representatives of Regional Marine Pollution Emergency Response Centre for the Mediterranean Sea (REMPEC) and the International Oil Pollution Compensation Funds (IOPC Funds).

Angela delivered a presentation on the response to spills of Hazardous Noxious Substances (HNS) in the marine environment, speaking on how different substances can react in the presence of combustible materials and how the management of the spill response efforts differ to spills of oil. She went on to speak about the key preparations for responding to spills where containers are lost from a vessel with varied cargo.