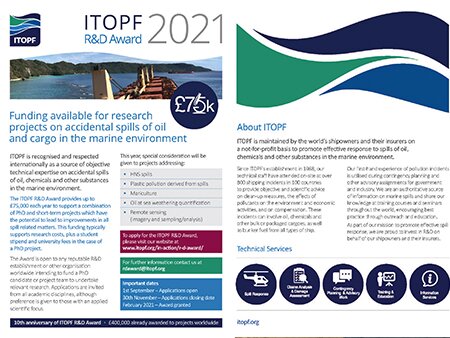 Applications are invited for the 2021 ITOPF R&D Award.
The Award is open to any reputable R&D establishment or other organisation worldwide intending to fund a PhD candidate or project team to undertake research aimed at improving our knowledge and understanding of issues related to accidental marine pollution from ships.
This year, special consideration will be given to projects addressing:
• HNS spills
• Plastic pollution derived from spills
• Mariculture
• Oil at sea weathering quantification
• Remote sensing (imagery and sampling/analysis)
The closing date for applications is 30th November 2020.
Further details and an application form are available here: - https://www.itopf.org/in-action/r-d-award/application-process/
If you have any questions regarding the Award or if you are unsure whether your project will qualify, please don't hesitate to contact us at any time, either at rdaward@itopf.org or duartesoares@itopf.org.