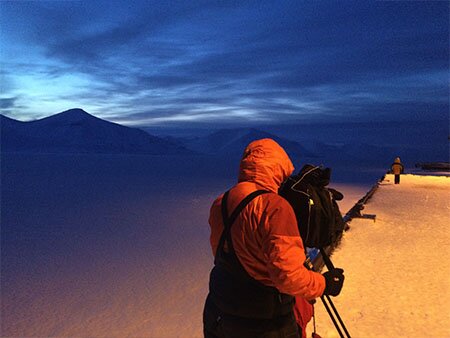 Filming has begun on ITOPF's new production "Oil Spills in Ice Covered Waters". This film will consider the strategies employed to deal with spills in some of the most challenging conditions on the planet.
ITOPF and the production team travelled north of the Arctic Circle to Svalbard and to Lulea in Northern Sweden in January and February to film in the harsh climate and remote locations that can pose special challenges for spill response. In the Arctic, as well as other icy waters, clean-up techniques that work elsewhere need to be modified to ensure that they are effective.
This film will review the response strategies available, and the factors that need to be taken into account in implementing them. We will feature the scientists at the forefront of research into the fate and behaviour of oil in ice and the refinement of methods used to minimise impacts. The film will also show ITOPF staff as they train in preparation for operating in harsh Arctic conditions.
The film is scheduled for release in Spring 2016, but in the meantime, view a trailer. The 2 minute clip gives a flavour of what will be a visual treat as well as a succinct review of prevention, preparedness and response in ice-covered waters.
You can also follow the progress of the project on Twitter.