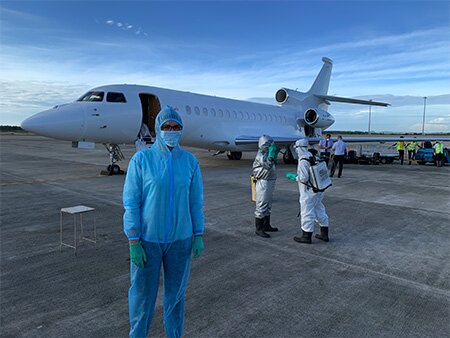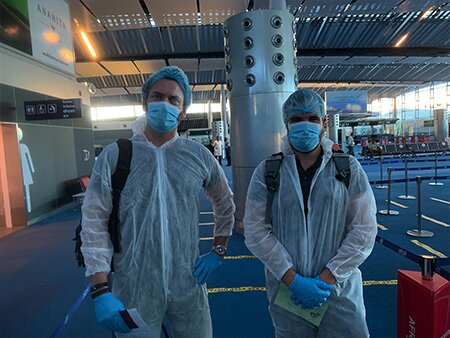 The Covid-19 pandemic has had a huge impact on organisations worldwide this year. ITOPF is no exception. Despite these challenging and unprecedented times, we have continued to deliver our core technical services, albeit with some necessary adaptions to our normal working practices.
ITOPF's priority service is responding to ship-source spills of oil, chemicals and other cargo in the marine environment. We have continued to provide remote advice unabated throughout this year of pandemic and, despite international travel restrictions and reductions in flight options, endeavoured to find ways of giving on-the-ground advice. Interestingly, despite a hiatus, we have spent as many days on site attending spills this year as a typical year.
In line with UK government guidelines, ITOPF closed its London office in March and staff have for the most part been working from home ever since. Through the enhanced use of video conferencing tools and other technology, we have been able to provide a near-normal service remotely, including both emergency and non-emergency work.
There is no real substitute for being on-site, particularly for complex or severe cases, and plans were put into effect early on to explore options for attending incidents requiring our presence in person. This included running scenarios for selected key countries and producing a specific Covid-19 related risk assessment procedure, to ensure the safety and wellbeing of our staff whilst away on mission.
After a few months without mobilisation requests, these procedures were put into practice in mid-August when two members of the technical team were successfully mobilised to Mauritius for the widely reported WAKASHIO incident. At the time, borders in Mauritius were closed, there were no direct commercial routes in, and strict quarantine procedures had been imposed by the Mauritian government.
ITOPF has remained on site in Mauritius for four months through to mid-December, with five staff rotating in and out at intervals. Numerous PCR (Polymerase Chain Reaction) swab tests were required and different routings into country were necessary due to flight alterations and new transit country impositions and restrictions. Changing government protocols, such as stays in government self-isolation centres and prolonged quarantine procedures, during this time also meant that our team on site has had to remain fully flexible, adapting to ever-changing circumstances, longer than usual periods away from home, and self-isolation on their returns where no travel corridors existed.
In addition to the spill in Mauritius, since September we have had significant and prolonged involvement in an incident in the USA, as well as attending an incident in Sri Lanka and two incidents in South Africa. In all cases, there were various Covid-related hurdles to overcome before we could take up our normal role on site. In total, we have mobilised to seven incidents since March (the start of lockdown in the UK) and provided remote advice for 18 other cases.
We are grateful for the help and support of the P&I Clubs who have provided assistance to enable us to navigate through some of the Covid challenges faced on the road.
For our 'preparedness' activities, such as training, we have continued to support events remotely where we can, often reaching a far wider audience than through face-to-face meetings. We have also accomplished significant claims work during the year and continued to fulfil contingency planning assignments and other project work.
It is anticipated that Covid challenges will continue well into 2021. Though 'normal' life may still be some way off, the team at ITOPF remains ready, prepared and committed to supporting incidents and response operations worldwide.
For a spill emergency, please follow our emergency procedures for assistance. For non-emergency work, please contact us in the usual manner.
(Pictures show ITOPF arriving in Mauritius and Sri Lanka)