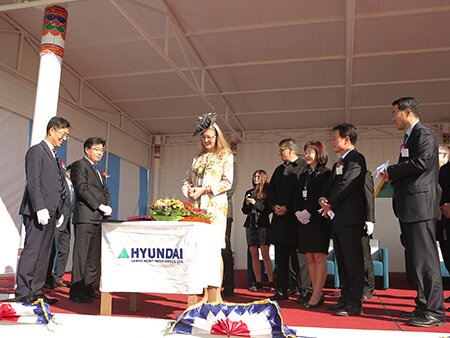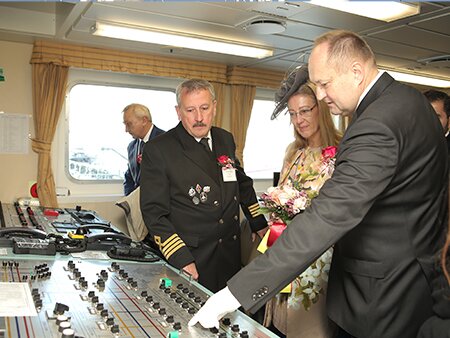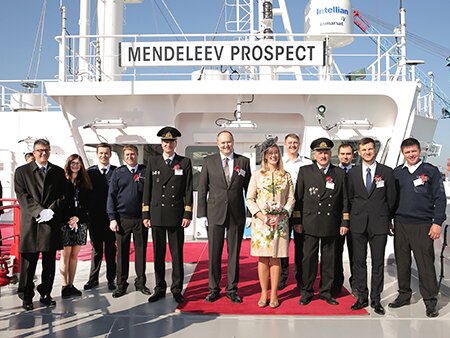 The 3rd vessel in Sovcomflot's (SCF) series of the world's first LNG powered Aframax tankers was named at a ceremony held in Mokpo, South Korea on 20th November. Dr Karen Purnell was invited to be Godmother to the 'Mendeleev Prospect', thereby following the centuries-old tradition of bestowing good luck and divine protection over the ship and all who sail on her, and it is of great symbolic importance.
The 'Mendeleev Prospect' is named in honour of Dmitri Mendeleev (1834 – 1907), a Russian scientist credited with the invention of the modern periodic table of chemical elements. In accepting this honour, Dr Purnell said "as a chemist myself, I admire Mendeleev for his astonishing vision, which allowed him to predict elements that had yet to be discovered in his time. Sovcomflot's choice of name reflects the visionary nature of the 'Green Funnel' project, leading shipping towards its goal of providing sustainable and environmentally responsible transportation."
Background
The construction of the 'Mendeleev Prospect' is the result of the implementation of the breakthrough 'Green Funnel' project, initiated by SCF Group together with Royal Dutch Shell in 2015 in a bid to make the energy shipping industry more sustainable and environmentally responsible by reducing its emissions. The advantages of LNG as a marine fuel are very strong: the reduction of sulfur oxides and black carbon emissions reaches 100%, nitrogen oxides emissions decrease by 76%, and carbon dioxide emissions – by 27% in comparison with power plants running on conventional heavy fuel. The transition to LNG as a fuel by its importance is comparable to the technological revolution, which took place in the first half of the 20th century when the world trade fleet made a transition from using coal to heavy fuel.
http://www.scf-group.ru/en/fleet/sustainable_development/aframax.aspx