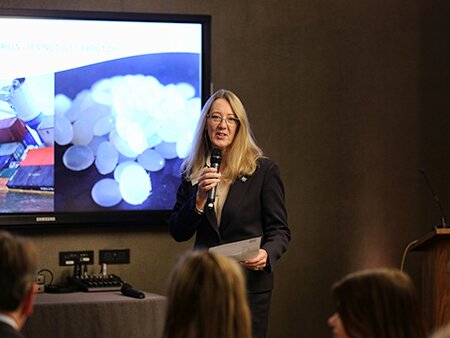 Dr Karen Purnell has been announced as the winner of the NAMEPA (North American Marine Environment Protection Association) Marine Environment Protection Individual Award for 2021. NAMEPA's awards are given in recognition of an individual or organisation's innovative and extraordinary effort to commit themselves to preserving the marine environment.
Karen said: "I am honoured and delighted to receive this prestigious award from NAMEPA, which is testament to the hard work and commitment of the whole team here at ITOPF in our mission to promote effective spill response."
Karen will be presented with the Award at NAMEPA's Annual Marine Environment Protection Conference which is being held virtually on 28th October. She will also participate in NAMEPA's Leadership Roundtable discussion on the day of the Awards.
The North American Marine Environment Protection Association (NAMEPA) was officially launched in 2007. NAMEPA is a marine industry-led organization of environmental stewards preserving the marine environment by promoting sustainable marine industry best practices and educating seafarers, students and the public about the need and strategies for protecting global ocean, lake and river resources. For more information, go to www.namepa.net.