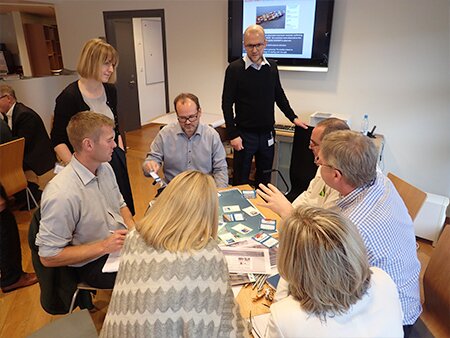 ITOPF was invited by GARD to deliver a seminar at the company headquarters in Arendal, Norway. The seminar's participants included 21 GARD employees with a broad range of experience in casualty and environmental claims.
The day began with a brief introduction to ITOPF, followed by more in-depth talks on our role in spill response as well as in claims assessment by Alex Hunt and Tim Wadsworth respectively. A recent case study was provided by Miguel Patel to demonstrate ITOPF's on-site role in a specific incident.
Two of the ITOPF films were shown (No.3: At-Sea Response and No.4 Shoreline clean-up) which provided a good introduction to the desktop spill response and claims exercise that followed.
Miguel Patel, Iain Harrison, Jessika Fuessel and Anne Reglain were tasked with developing a refreshed concept for the afternoon's desktop exercise, which included a range of response resources that were applied to a spill scenario. The participants, who were divided into three teams, were asked to generate clean-up claims and provide a subsequent claim assessment, prompting interesting discussions during the day's closing session.
Category: Training & Education