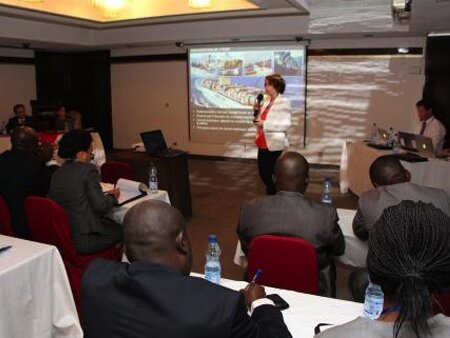 Dr Annabelle Nicolas-Kopec of ITOPF took part in the GI WACAF (Global Initiative for West, Central and Southern Africa) sub-regional conference on liability and compensation in Libreville, Gabon from the 5th to 7th November 2014. Organised by the IMO and IPIECA, and hosted by the Gabon Department of Environment and Nature Conservation of the Ministry of Forests, Environment and Nature Conservation, it gathered delegates from five African countries: Côte d'Ivoire, Congo, Democratic Republic of Congo, Togo and Gabon. Around 45 participants attended the workshop from various ministries, governmental agencies, as well as representatives from the industry.
The main objective of the workshop was to inform participants about the international compensation regimes for damages caused by oil pollution, in particular those covered by the International Oil Pollution Compensation Fund 1992 (Fund 92) and the International Convention on Civil Liability for Oil Pollution Damage (CLC 92). However, other conventions such as the Bunker Convention and HNS convention were also discussed. The workshop was illustrated with various tanker and non-tanker case studies, as well as a table top exercise.
The enthusiasm and interest of the delegates contributed to the success of the workshop, with many interesting questions and points raised throughout.
Categories: Africa, Training & Education