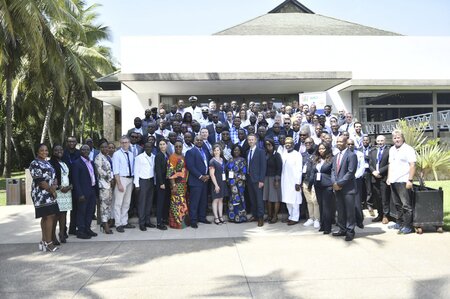 ITOPF attended and participated in the 9th regional conference of the Global Initiative for West, Central and Southern Africa (GI WACAF).
Taking place in Accra, Ghana, the main objectives of the conference were to address the challenges of oil spill preparedness and response in the region and to review the progress achieved since the last regional conference, while looking forward at the next set of strategic priorities.
ITOPF's travelling team included Technical Team Manager Franck Laruelle, Senior Technical Adviser Duarte Soares and Technical Advisers Dr Amy Jewell and Natálie Kirk.
Franck began ITOPF's involvement in the conference with a presentation on a recent spill response case study, the team then led a practical demonstration on sorbents, PPE and shorelines surveys in French, English, Portuguese and Spanish to breakout groups across five thematic field stations.
The team also delivered a table-top pollution response exercise, incorporation a Virtual Reality (VR) aerial surveillance exercise.
Franck and Duarte also led discussions with delegates from GI WACAF member states on national priority areas of improvement and planned actions for the near future.