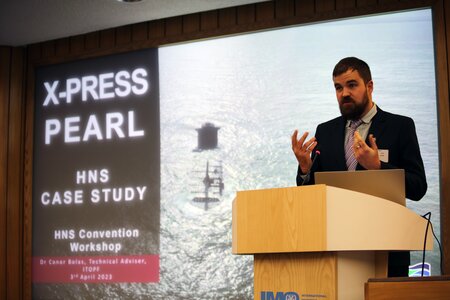 ITOPF attended and presented at the HNS Workshop held at the International Maritime Organization in London on 3rd and 4th April 2023.
This event, organised by Canada in cooperation with the Secretariats of International Maritime Organization and the International Oil Pollution Compensation Funds (IOPC Funds), follows the success of previous workshops, with the primary objective of assisting States in their work towards ratification of the 2010 HNS Convention Protocol.
Angela Pinzón Espinosa presented on the types of hazards, losses and damage that could arise from an HNS incident, and Conor Bolas presented on the HNS aspects of the X-PRESS PEARL incident.
Tim Wadsworth and Ayumi Therrien attended also to support the objectives of the workshop. Further information can be found at www.hnsconvention.org