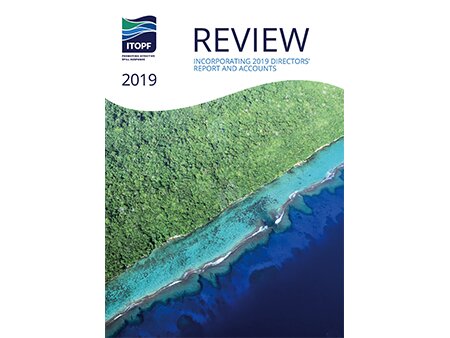 ITOPF has just published its Annual Review for 2019. This report incorporates Financial Statements for the year ending 20th February 2019 and provides notice of its Annual General Meeting in Shanghai on 5th November 2019.

In his final statement as ITOPF's Chairman, Paddy Rodgers reflects on ITOPF's activities and achievements during the last financial year. Notably, ITOPF celebrated its golden anniversary in 2018 and this was marked with a series of events, publications, sponsorships and awards. Spill activity included a continuation of the significant commitment from ITOPF in response to the tragic loss of MT SANCHI in the South China Sea in January 2018. ITOPF also attended 13 new incidents during the period under review, of which four involved tankers. Ten of the new incidents resulted in the loss of bunker fuel; the remaining three spills involved coal, crude and base oil. ITOPF remains heavily involved in evaluating the quantum of economic and environmental damage arising from such incidents on behalf of shipowners, their insurers and claimants.

After serving for five years as ITOPF's Chairman, Mr Rodgers expressed his greater appreciation of the value of this unique, not-for-profit organisation, adding "Shipowners and their P&I insurers can be reassured that ITOPF is perfectly positioned, with a dynamic workforce, excellent leadership and experienced Board, to face the challenges of the future."
Hard copies of the Annual Review are currently being sent to ITOPF Members and contacts. If you do not wish to receive a hard copy going forward, please email us.