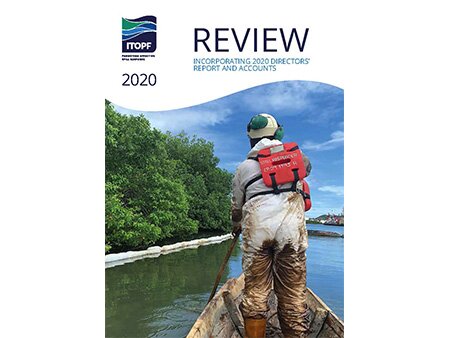 ITOPF has just published its Annual Review for 2020. This report incorporates financial statements for the year ending 20th February 2020 and provides notice of its Annual General Meeting on 2nd December 2020. Due to uncertainty regarding Covid-19 restrictions, the venue for the AGM will be announced at a later date.
In the Review, ITOPF's new Chairman, Erik Hånell, President & CEO of Stena Bulk, reflects on the organisation's activities and achievements during the last financial year.
ITOPF attended 12 incidents, three involving tankers, one from an unknown source and the remainder predominantly from bulk carriers and containerships. Advice on the technical merit of claims was provided for 24 incidents, and, in addition, ITOPF undertook numerous contingency planning, advisory and training assignments.
The end of the financial year coincided with the unprecedented challenges and disruption brought by the Covid-19 pandemic. ITOPF has been adapting to the 'new normal' and, through enhanced use of technology, continues to fulfil its key service functions.
Hard copies of the Annual Review are currently being sent to ITOPF Members and contacts, along with the ITOPF Handbook. If you would like to be added to our mailing list, please email us at central@itopf.org.
Category: Publications