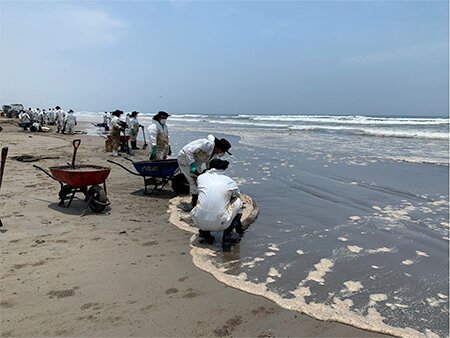 ITOPF has been mobilised to give technical advice in relation to a crude oil spill off the coast of Callao, Peru, that occurred on 15th January during the discharging operations at La Pampilla Terminal.
Since 20th January, ITOPF has worked alongside the Direccion de Capitanias y Guardacostas (DICAPI) and other members of a Technical Advisory Committee (TAC) to mitigate the impact of oiling on the Peruvian shoreline and nearshore waters.
To date, ITOPF's efforts have focused on working collaboratively with local authorities to map the extent and severity of oil contamination along affected areas of shoreline and provide technical advice on effective clean-up techniques.
Aerial and ground surveys are being regularly carried out to understand the reach of the oil spill and to aid the planning of on-going clean-up efforts.
Category: Spill Response