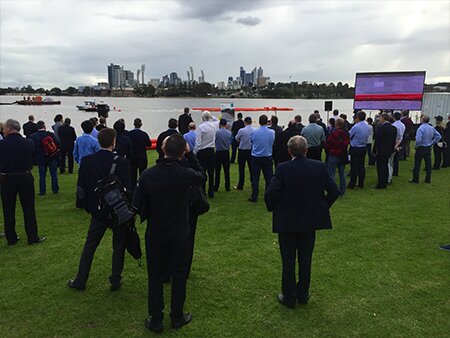 Alex Hunt attended SPILLCON 2016, the Asia-Pacific Oil Spill Prevention and Preparedness Conference, which ran from 3-5 May in Perth, Western Australia. The conference, organised by the Australian Maritime Safety Authority (AMSA) and the Australian Institute of Petroleum (AIP), attracted 300 delegates and is the largest oil spill conference event within the Asia-Pacific region.
Alex Hunt provided the opening presentation during a plenary session on 'International Trends in Maritime Environmental Emergencies'. His presentation, entitled 'Declining Incidents & the Implications', highlighted the dramatic reduction in spills from tankers, despite the general growth in crude oil transportation by sea, while also providing an overview of the trend in ITOPF's spill attendance towards spills of bunker oil from other types of ship. The implications of the downward trend in incidents on the degree of oil spill preparedness in different countries was discussed along with some of the key lessons learned from major ship-sourced spills, see Alex's presentation at https://www.spillcon.com/presentations/4%20-%20Alex%20Hunt.pdf.
ITOPF was also invited by AMSA to join a panel session on the final day of the conference which focused on 'Future Risks and Opportunities in Maritime Environmental Emergency Response'.
During the following week, ITOPF participated in a major oil spill exercise in New Zealand as an 'international observer' at the invitation of Maritime New Zealand. "Exercise Whakautu II" was a test of the new structural, operational and procedural changes brought about by the updated National Marine Oil Spill Contingency Plan for New Zealand in the aftermath of the RENA incident.
Categories: Oceania, Training & Education