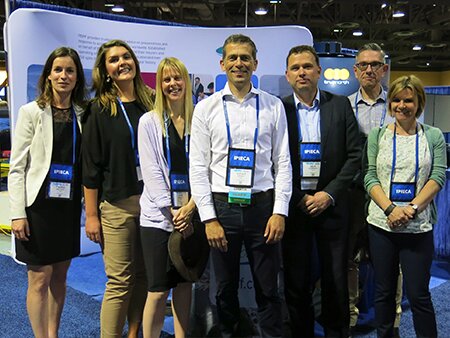 ITOPF was out in force at the International Oil Spill Conference and Exhiition (IOSC 2017) in Long Beach, California last week. Eight members of the team variously presented papers, chaired sessions and welcomed visitors to our booth in the exhibition hall.
On the Monday morning before the opening of the conference, Kelly Reynolds, Dr Mark Whittington, Nicky Cariglia and Pauline Marchand ran a short course entitled "Fundamentals of oil spill response" attracting approximately 35 delegates. Richard Johnson chaired a session on "Fate and monitoring of spilled oil" at the main conference and was one of the three panellists in the closing plenary discussion that rounded off the event by looking at how far we'd come in terms of preparedness and response and what future risks remained. Mark delivered a paper in the "Sunken vessels" session entitled "To remove or not to remove? Dealing with pollution risks from ship wrecks" and Pauline presented "The international law regarding ship-source pollution liability and compensation: Evolution and current challenges" in the "Laws and policy" session. On the final day of the conference, Nicky Cariglia presented three papers "Response considerations in marine spills affecting tidal agriculture"; "The use and misuse of SCAT in spill response"; and "Implementation of oil spill impact mitigation measures in fisheries and mariculture".
In addition, as part of marking the 50th anniversary of the TORREY CANYON incident, ITOPF worked alongside Professor Stephen J Hawkins of the University of Southampton to produce a paper on long-term marine monitoring. This paper is based on data sets that have been maintained for the rocky shores around Cornwall since the early 1960s. ITOPF sponsored Professor Hawkins delivering this paper at IOSC.
IOSC 2017 attracted over 1500 attendees from the international spill response community and provided an excellent opportunity to foster and strengthen relationships with government and industry partners, to share experiences and keep up-to-date with the latest developments and technologies.
Categories: Americas, Training & Education