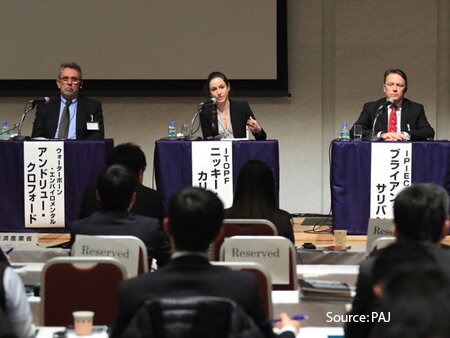 The 4th Oil Spill Workshop organised by the Petroleum Association of Japan (PAJ) was held on 29th January in Tokyo. The theme of the workshop this year was "Cooperation Beyond Borders" and Nicky Cariglia attended as a speaker. Her presentation focused on ITOPF's recent experience and trends in the region, and the specific transboundary issues they tend to raise.
Over recent years, there have been more bunker spills from various vessel types and fewer tanker cargo oil spills. Although these spills may require fewer resources, the close proximity of multiple states' territories means that the probability of even small spills becoming an international issue is high. Whereas during a major spill international cooperation may require tangible assistance in the form of equipment and personnel, the requirements from a small scale spill are different. The most common issues have tended to involve those caused by inadequate communication.
Following introductory remarks, a series of case studies from East Asia were presented to highlight the theme of the talk.
Category: Training & Education