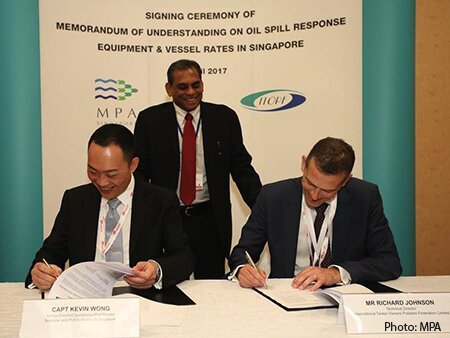 Richard Johnson and Dr Mark Whittington travelled to Singapore last week to take part in events relating to Singapore Maritime Week, a week of conferences, meetings, exhibitions and social events celebrating all things maritime, under the lead of the Maritime and Port Authority of Singapore (MPA).
Richard was conference chairman for the International Chemical and Oil Pollution Conference and Exhibition (ICOPCE 2017) from 25-28 April. This is Asia's main international event focusing on preparedness and response strategies for oil and chemical spills, attracting over 250 delegates. Richard gave a presentation entitled "Spill response lessons from past incidents", providing a snapshot of global spills and their triggers, discussing the significant steps that have improved safety and reduced incidents and advising on ways to adapt and improve contingency plans. He also acted as moderator for a panel discussion on "The challenge of continuous improvement - how much planning and preparedness is enough?"
Dr Mark Whittington attended the 2nd Asian Marine Casualty Forum, hosted by London Offshore Consultants (LOC) from 27-28 April. This not-for-profit event looked at "Risks, rewards, response and results in the life and time of a casualty" and attracted a registered 450 representatives from government authorities, salvage contractors and marine insurers. Mark gave a presentation on "Wreck removal - challenges to the technical approach".
Whilst in Singapore, ITOPF also signed a new version of the Memorandum of Understanding on oil spill equipment and vessel rates with the MPA and took the opportunity to meet some of our shipowner Members.
Categories: Asia, Training & Education