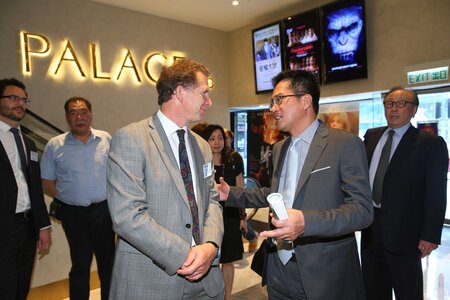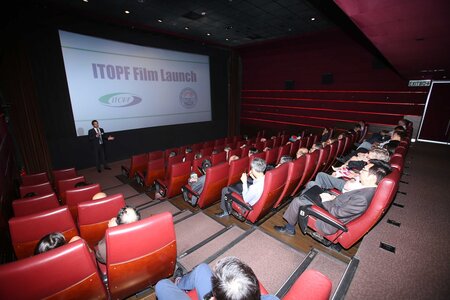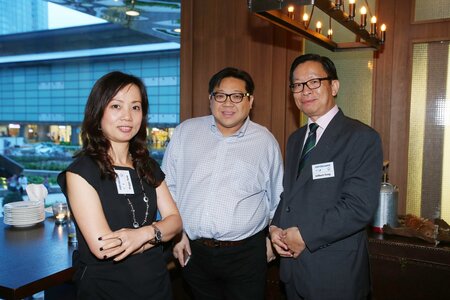 The final films in ITOPF's "Response to Marine Oil Spills" series were showcased at a cinema in the iconic IFC building in Hong Kong on Wednesday evening. Mr Michael Wong, Director of the Marine Department, told the invited audience of shipping, P&I and government representatives that Hong Kong was a fitting location for the climax to the film series. As one of the busiest ports in the world and operator of one of the largest shipping registries, protecting the marine environment and facilitating the safe and expeditious movement of ships was of paramount importance for Hong Kong, he explained. He also outlined how investing in infrastructure to further strengthen the position of Hong Kong as one of the leading ports in the world is seen as a strategic priority for the government of the Hong Kong Special Administrative Region.
The two films featured in Hong Kong, "Environmental Impacts" and "Oil Spill Compensation", are now available to view online from ITOPF's website, along with the complete set of titles in this seven-part series.
At the event, Dr Tim Lunel, Support and Development Director at ITOPF, also announced the arrival of the ITOPF Film App, which allows the films to be downloaded and viewed "on the move". "We see the App as a useful option for those regularly out in the field and away from good communication links to take the good practice from around the world into the field" he told the audience. "We have also been heartened by the number of organisations who have said that they see the film series, particularly with the subtitles in five languages, as forming an important part of their training and communications programmes" he added.
The screening was followed by a reception which gave the attendees an opportunity to network and share experiences. Deborah McKendrick, one of the film project team, said "We are delighted by the excellent turn-out and very much appreciate the generous support and assistance of the Hong Kong Shipowners Association, who helped make the evening such a success."
Category: Asia