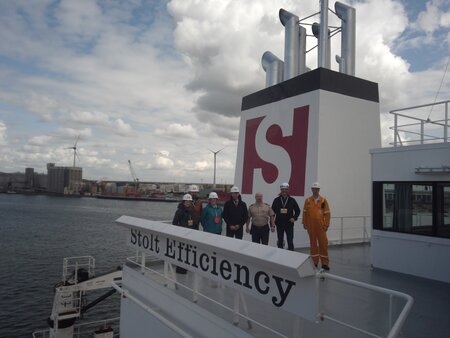 ITOPF's core service is to provide response advice and impact mitigation to ship-source pollution events, and its Technical Team has visited two Stolt vessels (STOLT EFFICIENCY and STOLT JAEGER) to expand its knowledge and experience of how vessels and their teams operate to maintain its level of expertise.
This visit strengthened the working relationship between ITOPF and Stolt and enabled both parties to gain a more detailed operational understanding of each other's organisations; the challenges routinely faced, and the emerging issues which could be encountered in the near future.
Speaking on the success of the trip, Technical Adviser, Thomas Sturgeon said: "This visit was a great opportunity to familiarise ourselves with Stolt's vessels, discuss the routine operations they are conducting, and learn from an organisation at the forefront of the shipping industry.
"The value of face-to-face interaction and practical experience on board vessels cannot be understated. This visit was a valuable experience to familiarise ourselves with a range of vessels outside of an incident scenario and strengthen our relationship with Stolt Tankers, a key member of ITOPF."
Technical Adviser and chemist Conor Bolas added: "It was great to have the chance to ask questions about the layout of a vessel as we often get questions about these aspects while attending an incident. In addition, as a chemist, it was very interesting to learn more about how these substances are shipped in bulk."