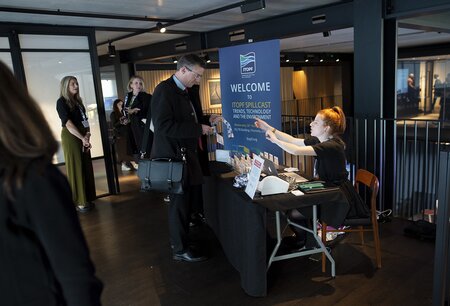 Industry leaders and experts gathered in London to discuss the latest in Environmental, Social and Governance (ESG) trends in relation to ship-source spill response, at an event hosted by ITOPF.
'ITOPF Spillcast: Trends, Technology and the Environment' took place in Fitzrovia and saw more than 50 guests arrive and tune-in to an afternoon of hot topics and discussion.
Over the course of the afternoon the ITOPF team gave presentations on alternative fuels, plastic nurdles, Geographic Information Systems (GIS), an update on its spill response activity and looked at the tools ITOPF is developing to understand the ESG impacts spill response has.
A panel discussion was held with industry experts Patricia Charlebois (IMO), Andreas Brachel (Gard), and Mark Church (North P&I) fielding questions from both the in-house and virtual audiences.
Alongside them on the panel was ITOPF Managing Director, Oli Beavon, who said: "I am so pleased to have shared the panel with these industry experts and to be here today for what has been an astounding event, showcasing our expertise.
"As spill response professionals, we are seeing many new trends emerging in the industry as ESG impacts are considered more frequently. To bring the community together to consolidate expertise and drive innovative discussions has been an excellent opportunity."