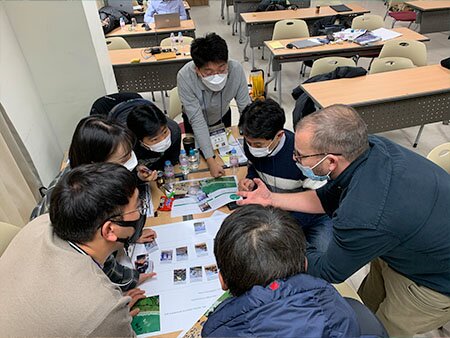 ITOPF ran a three-day in-person training workshop with the Korea Coast Guard (KCG) earlier this month.
The event was held at Mallipo Beach, one of the first sites where oil came ashore following the HEBEI SPIRIT spill in December 2007.
Twenty team members from the Marine Pollution Response Planning Division HQ in Incheon, regional KCG branches and NOWPAP MERRAC attended.
The course covered key aspects of spill response, including fate of oil, impacts of spills, command and control, response strategies and techniques, and claims and compensation, along with response to HNS incidents and LSFO.
The training was highly interactive and included a full day tabletop exercise, which incorporated ITOPF's new 'Flight VR' aerial surveillance experience.
In addition to the international perspective provided by ITOPF, KCG gave an overview of the national contingency plan and details of their research and experience of LSFO spills.
Feedback from the event was excellent and it reinforced the strong relationship ITOPF already has with KCG, following our involvement in major incidents such as HEBEI SPIRIT, and subsequent contingency planning activities.
Plans are in place to make this an annual commitment going forward.
Category: Training & Education