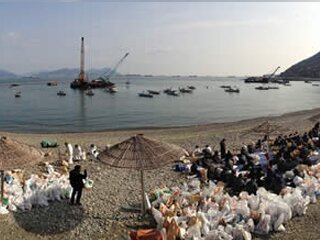 ITOPF was delighted to be awarded a clean sweep of 1st, 2nd and 3rd prize at the Film Festival of the International Oil Spill Conference (IOSC) in Savannah, USA. "From the enthusiastic response we had at the launch event in London on the 30th April we knew we were in with a good shout at the Film Festival" said Dr Tim Lunel, Support & Development Director at ITOPF, "But with some excellent submissions from around the world we didn't imagine that we would make a clean sweep. It was excellent that some of the key partners who helped to bring a truly international perspective to the film series were able to be there at the IOSC to share in our collective success"
Since the aim of the films is to highlight key messages on oil spill preparedness and response around the world, the films were produced with key input from the IMO, European Maritime Safety Agency (EMSA), OSRL, Sintef (Norway), Cedre (France), the International Group (IG) of Protection & Indemnity Clubs, the International Oil Pollution Compensation (IOPC) Funds and KOMOS (Korea). Important imagery illustrating different aspects of the film series was provided by Callisto, Steamship Mutual, NOAA and the US Coastguard to ensure that spill incidents from around the world were included to illustrate particular aspects of a successful response. Initial responses from those seeing the films seem to indicate that the aim of producing a film series with key messages that are relevant to the wider global spill response community has been achieved in the approach taken in these films.
Mark Howard from the US Environmental Protection Agency (EPA) coordinated a newly expanded Film Festival that raised the standards to a new level which also included a photography contest for the first time. Dr Annabelle Nicolas-Kopec from ITOPF also scooped a first prize in the "Response" category of the photo completion with this photo:
Mark said "We put together an independent judging panel some members with a focus and experience on the cinematography/photography and some members with technical experience on oil spill response, prevention preparedness and restoration. The films were scored on two categories, cinematography and technical content. We had some other excellent submissions that excelled either in the cinematography or in communicating the technical aspects of spill response, preparedness, prevention and restoration, whereas, the ITOPF films scored highly in both categories".
Alex Hunt, project manager for the film series, concluded "It was fantastic to see the way in which Mark worked to raise the bar in the Film Festival. It really did feel like you were going into a cinema when you stepped in to the room with full screen, excellent sound, comfy chairs and even the smell of freshly popped popcorn. This confirmed to us the increasing importance of effective communication through films and imagery in preparing for effective response to marine oil spills."