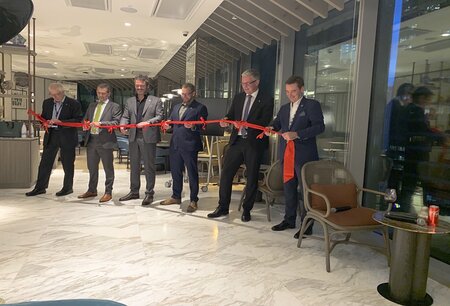 ITOPF has opened a new office in Singapore, offering its full range of services from The Great Room Afro-Asia co-working space on Robinson Road.
The new premises will provide a base for the company's technical advisers and support staff, in a move to become more agile spill responders in the Asia-Pacific region.
Oli Beavon, Managing Director for ITOPF said: "ITOPF has a long history of operating in the region and we are pleased to finally have a permanent base now open. Singapore is in an incredibly important position as one of the leading global maritime centres and being able to expand our reach from here is an excellent opportunity.
"It's also an opportunity to welcome familiar and new faces to our premises as we establish ourselves in the region and I'd like to thank all those who we saw at our opening ceremony.
"We look forward to growing our team here and continuing to provide our services to the shipping industry and governments."
The ITOPF Singapore Team will consist of five staff; an ex-patriate, a rotation of an existing UK team member, a Singapore-based Office manager and two Singapore-based Technical Advisers. The newly formed team will build on relationships which have been fostered over the years of responding in the region.
The office has opened as of 1 December 2022, with a grand opening attended by the ITOPF Board of Directors and guests.
Chairman of the Board, Erik Hånell, joined ITOPF at the opening ceremony and said: "I am delighted to be here in Singapore to witness this next step in ITOPF's journey. I'm confident that this new base will enable us to attract the right talent and create a platform for even more effective response in Asia-Pacific."
We are currently hiring for two Technical Adviser positions to be based in our new Singapore office, if you are interested in applying, find out more here.