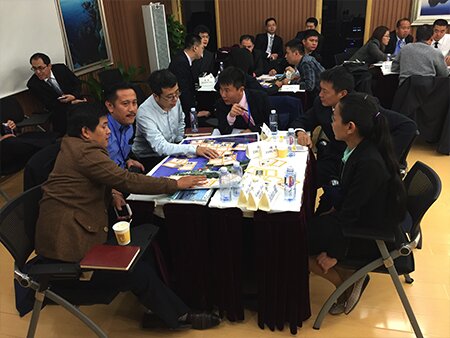 An exchange programme for oil spill response officers was held in Shanghai, China under IMO's Integrated Technical Cooperation Programme (ITCP), from 28 November - 2 December 2016. The activity was organised within the framework of the Memorandum of Understanding between the IMO and the Ministry of Communications of the People's Republic of China on technical cooperation and in collaboration with the Shanghai Maritime University. Delegates included 15 participants from 12 China MSA branches and a further 18 participants from eight different Association of South East Asian Nations (ASEAN).
The programme aims to strengthen the capacity of oil spill response personnel in the effective discharge of their responsibilities as port and coastal States as well as understanding the different practices and concerns regarding oil spill response.
ITOPF's Miguel Patel and Iain Harrison, in collaboration with other consultants, prepared and delivered lectures and exercises related to oil spill preparedness, response and cooperation.
The event also included the opportunity for delegates to visit the Emergency Response Warehouses of both Shanghai Pudong MSA and Shanghai Resolve-Shengmin OSRO Co., Ltd. Further visits were made to the MSA Response Vessel HAIXXUN 01 and the Shanghai Wusong VTS Centre.
Categories: China, Asia, Training & Education