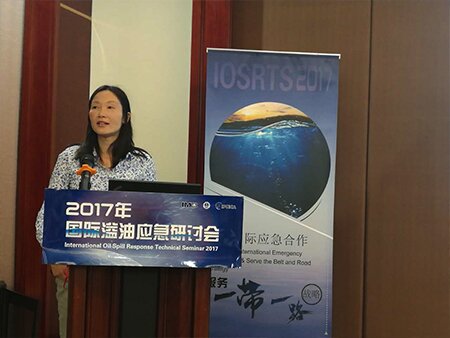 Between 19th-21st September, ITOPF participated in the 2017 International Oil Spill Response Technical Seminar (IOSRTS) in Tianjin, China. This seminar was organised under the umbrella of Global Initiative (GI) China, and marks 10 years since China MSA signed a 'Statement of Intent' with IMO and IPIECA in 2007.
This successful event was attended by over 180 participants. It had three themes: Spill Risk Assessment and Response Management, Spill Response Technology, and Damage Assessment. Dr Ann Zhang provided a presentation on Environmental damage compensation in the international regime. The winner of ITOPF's 2017 R&D Award, Shanghai Maritime University, also introduced its project for a "real spill response game" at the seminar.
This is the second technical seminar organised under GI China. ITOPF also participated in the previous one in Yantai in 2014, and provided important support to the organisers. It is understood that China MSA plans to arrange a third seminar in 2019.
Categories: China, Training & Education