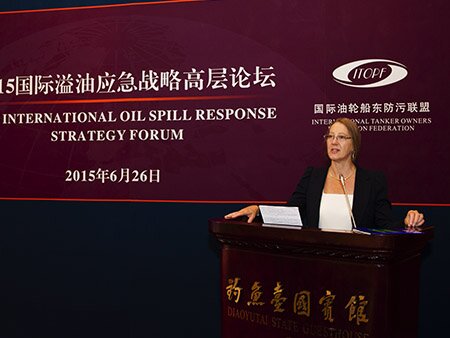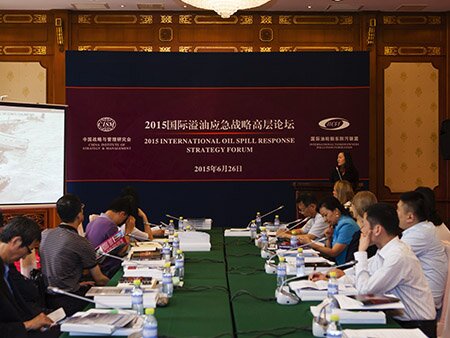 ITOPF participated in an International Oil Spill Response Strategy Forum in Beijing, China on Friday 26th June 2015, to promote the benefits of preparing for a major pollution incident in China and to explain the role of ITOPF in assisting the Chinese government during such an event.
The forum was organised jointly with the China Institute of Strategy and Management (CISM) and attended by senior level officials from the Chinese Ministry of Transport, Ministry of Environment, State Oceanic Administration, Reform and Development Bureau, Safety and Security Bureau, Public Safety Dept., Weather Forecasting Dept., China Ship-Owners' Association, China Shipping, China Ocean Shipping Co. (COSCO), and China National Offshore Oil Corporation, as well as a number of experts from relevant scientific institutions and an official from the British embassy.
The forum was opened by Mr. Lv KeQin, Deputy Secretary General of the Chinese Ministry of Environment (All China Environmental Federation), who extended a warm welcome on behalf of the Chinese government to ITOPF. Mr. Lv noted that ITOPF's work accorded with Chinese President Xi's focus on environment protection.
Dr. Karen Purnell commenced her speech by offering condolences for the recent cruise ship accident on the Yangtze, and noted that the seminar coincided with the 17th Anniversary of China's ratification of the OPRC Convention. Dr. Purnell touched on the importance of a co-ordinated response to a marine pollution incident, a theme developed later in the seminar.
Mr. Qin ChaoYing, President of the CISM, noted the effort of the Chinese government to welcome foreign ship owners to do business in China. CISM, as a key policy think-tank to the Chinese central government, hopes ship owners can utilize the Institute as a means for expressing any queries and requests freely to the Chinese government. In addition, CISM can facilitate ITOPF's role in promoting effective preparedness and response to accidental oil spills in Chinese waters.
Rose Ying gave a presentation on the role of ITOPF in marine pollution incidents, highlighting our work in previous incidents in China. The work of ITOPF, particularly our readiness to provide technical advice to the Chinese government, proved to be of great interest to the attendees. The seminar concluded with a round table discussion, on the work China is undertaking to develop the National Contingency Plan, which generated some constructive discussion on the roles and responsibilities that the different agencies might have in a serious oil pollution incident. The discussion also highlighted the benefits of an adequate response capability, frequent training and exercises, and co-operation with international bodies such as ITOPF.
The forum served to strengthen the links between ITOPF and the attending organisations and will lead to further meetings to develop these themes.
Further information on the China Institute of Strategy and Management can be found at http://www.cssm.org.cn/en_index.html
Photo(s): Dr Karen Purnell emphasises the benefits of co-ordinated pollution response and Rose Ying introduces the work of ITOPF.
Category: Training & Education